Guyana Football Federation (GFF) President Christopher Matthias said that Guyana Defence Force (GDF) Head Coach Denzil Thompson will be appointed to the Golden Jaguars top post.
Speaking in an exclusive interview, Matthias said:"Denzil Thompson is a developer of players and clubs. History would have established that Thompson would have gone to several clubs and would have done tremendous developmental work with them."
He added:"After the outstanding win of the first Kashif and Shanghai tournament held at the stadium with Pele FC, Thompson would have gone to Santos and Western Tigers and developed those clubs. He is presently with the Guyana Defence Force which has now become a force to be reckoned with."
According to Matthias, "Thompson lends to a concept of development which is envisage of the federation. More over Thompson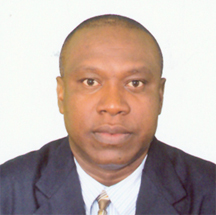 would have spent many years in Brazil and brings a particular style and methodology to that training which would have been considered and his years of experience.
"We also noted the fact that he has not been given the requisite exposure to commensurate with his experience. The evidence suggest that it might all have been for political reasons," he said.
"We all know that Thompson is an individual who speaks his mind and there was a period when speaking your mind in this institution professionally or unprofessionally, didn't allow for one to be considered. This is not the posture of the present administration of the GFF," he said.
Questioned about the other candidates that were considered, Matthias said "Wayne Dover was considered but he is presently occupied with Alpha United. Far be it for us to distract from his successful participation in the CONCACAF Champions League."
Asked about the possible timeframe for training and selecting of the squad, Matthias said… "The management is currently working out the schedule and we will soon inform the nation."
Matthias said: "He (Thompson) will be assisted by local coaches Bryan Joseph, Andre Hazel, Dwain Babb and Mark Charles. Mark Rodrigues and two other overseas coaches also are expected to assist Thompson and the manager post will also be indicated shortly".
Quizzed about the possibility of foreign players being included in the team, the GFF boss said:"They (team management) will decide and we have already gotten requests from foreign players to participate.
"However, participation is based on merit and as it was earlier indicated, we are expected to go out to compete as formidable competitors and not just for the sake of travel," he added.
The group stage of the Caribbean Football Union (CFU) Caribbean Cup which commences on September 1st pits Guyana in Group Six with likes of hosts St. Kitts and Nevis, St. Lucia and Dominica.
Guyana is slated to open their campaign September 3rd against Dominica. They will then faceoff with St. Lucia two days later and will end their campaign on September 7th against the home side.
The resulting top four teams of the tourney qualify for the 2015 CONCACAF Gold Cup automatically while the fifth place team will play a playoff match against the fifth place team from the 2014 Copa Centroamericana tournament.
The overall winner of the tournament will then qualify for the Copa América Centenario event. This tourney is a 16-team affair which features national teams from the CONMEBOL and CONCACAF region slated to be held in the United States in 2016.
The winner of the 2015 Gold Cup will then face off with the 2013 edition champion, the United States of America in a play-off matchup for the right to represent the region in the 2017 FIFA Confederations Cup.
Around the Web