More funding by the government and other stake holders are absolutely necessary if local athletes are to succeed on the global stage.
This was the general consensus voiced by the top brass of the GOA, the Commonwealth Games Chef-de-Mission, Garfield Wiltshire and managers of the seven disciplines Guyana competed in after the athletes returned from the XX Games in Glasgow, Scotland without a medal.
During a formal press briefing yesterday at the GOA building, 10 days after the Games' closing ceremony, the speakers all agreed that in order for future athletes to return with hardware, a lot more must be done.
Said Secretary General of the GOA, Hector Edwards "When you look at the podium, you will see they didn't just arrive at a medal, it's a process. "We need to be a bit more focused, I think it's about time that other stake holders get onboard."
Edwards added: "We cannot get the best out of our athletes if we continue to give them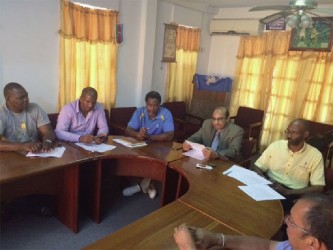 substandard support. Unless other stakeholders and the government play a meaningful role, we will continue to have these lowly results," he added.
These and other sentiments were echoed by GOA's president K. Juman Yassin, Terrence Poole, Godfrey Munroe, Dwyane Gibbs and Sean Baksh.
The speakers however, agreed that the athletes did perform to the best of their abilities.
At the July 23 to August 3 Games, the Golden Arrowhead was represented athletics, boxing, cycling, rifle shooting, squash, swimming and table tennis.
Squash Queen, Nicolette Fernandes who lost her round of 16 match to world No.2, Laura Massaro, track and field athlete, Winston George and the rifle shooters, Mahendra Persaud, Lennox Braithwaite who missed out on the podium by five points were singled out as the standout performers.
Guyana's entire delegation including US and UK based athletes included:
Cycling: Alanzo Greaves, Raynauth Jeffrey, Geron Williams, Scott Savory, Marlon Williams and Claire Fraser-Green with Dwayne Gibbs as Manager/Coach and Shaun Green (Coach).
Boxing: Theresa London, Eon Bancroft, Dennis Thomas and Imran Khan and/or Delon Charles with Poole as Manager/Coach.
Athletics: Adam Harris, Stephan James and George with Kenrick Smith as Coach.
Table Tennis: Christopher Franklin, Paul David, Shemar Britton, Idi Lewis, Trenace Lowe, Chelsea Edghill, Nathalie Cummings, Jody-Ann Blake and Munroe as Manager/Coach.
Swimming: Onika George with Baksh as Manager/Coach.
Squash: Alexander Arjoon, Sunil Seth and Fernandes with Carl Ince as Manager/Coach.
Around the Web