Several of the region's top youth cricketers were awarded for their individual performances in the recently concluded West Indies Cricket Board (WICB) Under-19 Three-Day Tournament.
At the presentation ceremony which was held at the Georgetown Cricket Club (GCC) main pavilion on Wednesday evening, Guyana's opening batsman Tagenarine Chanderpaul received the night's top accolade after he was named Most Valuable Player (MVP) of the tournament.
At the function organized by the Guyana Cricket Board (GCB), the left-handed West Indies U-19 batsman was recognised for his knock of 132 not out, which was pivotal in Guyana's victory over Trinidad and Tobago by an innings and 41 runs as the locals lifted the title for the first time since 2007.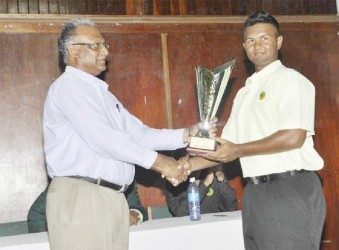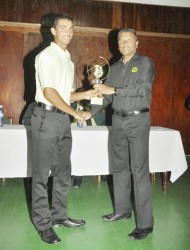 Tagenarine matched his father, Shivnarine Chanderpaul, who also collected the same award in his final year at the youth level more than two decades ago.
Tagenarine Chanderpaul also received an award for the highest individual score (132 not out). He finished one run behind the tournament's leading scorer Kacey Carty of the Leeward Islands, who finished with 248 runs. Carty won the most runs accolade.
Other awardees includes, Chad J. Williams from Barbados, who collected 26 wickets to finish with the most wickets, Barbados's wicket keeper Leniko S. Boucher, who had 11 dismissals (6 catches and 5 stumpings), to earn the most dismissals award and Alzarri Joseph from the Leewards, who received the award for the most promising fast bowler.
Guyana's skipper Brian Sattaur was presented with the three-day trophy, while the match officials; Umpires and Match Referees, were given medals and plaques for their contributions towards the smooth running of the tournament.
President of the GCB, Dru Bahadur, thanked the Government of Guyana and the WICB for agreeing to have the tournament hosted in Guyana withstanding the crisis that surrounds Guyana's cricket at the time.
Director of Sport Neil Kumar said the future of Guyana and the West Indies seems bright with the talents that were showcased in this year's competition. He recognized Chanderpaul, Shimron Hetmyer and Kemo Paul as players who have lifted his expectation.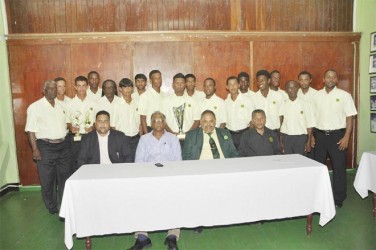 Secretary of the GCB and Director of the WICB, Anand Sanasie, praised the Guyana team on their achievement. He urged the youngsters to pursue their education since the well-educated generally progress to the higher levels.
Amongst the awards, the achievement for the best all-rounder went unrecognized, however, Kumar said the National Sports Commission will put up a trophy for that category and Paul will be the recipient given his outstanding performance for Guyana.
Around the Web