Alpha United head coach Wayne Dover is adamant his team must secure a win when they oppose USA's Portland Timbers in their second home match of the CONCACAF Champions League on Tuesday at the National Stadium.
"Tuesday's game is crucial with regards to the standing in the group given the fact we have already played one game and lost. If we don't win the game, it will put us further down in the group and make qualifying quite difficult for us despite having two games left," he said in an exclusive interview with Stabroek Sports.
"This is the most crucial game for us in the entire campaign. While all the other games are crucial, winning this game would give us the boost to continue in a positive note with the aim of qualifying out of the group as the top team," he added.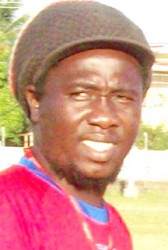 He warned however, that Alpha will need to be wary of their opponents scoring prowess. "I don't want to say its finale, but it's a crucial game and we must get maximum points. We are not going to be cocky and leave ourselves open against opponents of this nature who could easily score four and five goals if we don't defend as a unit," said Dover.
Asked about the mindset of the players going into the fixture, he said:"The unit is much more connected now and I see much more comradery and the chemistry seems to be good. I feel much more satisfied now than then. The frame of mind of the players is good, I think they have recovered well from the defeat and there are brimming with confidence."
Dover feels that a win on Tuesday could bring Alpha United back into contention for group honours.
"Winning the game on Tuesday would open back the group which would leave a situation where any of three teams could go through once they secure the points. The old saying is that you must win your home games but we have seen over the years where teams can lose their home games and still go away and win," he declared.
According to the coach his side can play better than they did against Olimpia.
"I am confident in what we saw against Olimpia that we can go and play much better away and get the result. I am confident right through, even the first game which we didn't get a result, I felt it could have been easily worked out. We were a bit unfortunate not to get something from the game but at least this game we will try our best to get maximum points".
"If that is not to be, I hope we can share the spoils. Even a point at home at this stage would still put us in a promising a position and both Olimpia and Portland Timbers have to play each other. The results from those games could help us. We have to be positive at this stage not to drop anymore points so that we can make the group very interesting in the other games to play," he added.
Questioned about team's approach going forward if another loss was to be incurred, Dover said:"I don't think it would be the end of the road. It would be an uphill task to qualify because having surrendered six points at home, it wouldn't be easy to secure six points away.
"We want call on the thousands of supporters to make that strong 12th man in helping us especially when the momentum is going for us to overrun the opponents. Also when we are in the defensive to sound their voices to give us the strength to fight on during the periods of momentum for the opponent," added Dover.
Alpha United commenced their CONCACAF Champions League campaign on August 5th at the National Stadium with a home loss to Olimpia of Honduras by a 1-0 score line.
Comments

Guyana Jaguars yesterday completed a resounding innings and 81 runs victory over the Trinidad and Tobago Red Force on the final day of the Cricket West Indies (CWI) regional four-day first-class season at the Guyana National Stadium, Providence.

Winners of the seventh annual Trophy Stall doubles championships received their prizes last Friday at the grand Guyana Tennis Association 2017 annual Awards Ceremony.

There were no surprises as two-time Olympian Winston George and Natrena Hooper were named the Senior Male and Female Athletes-of-the-Year for 2017.

The ascension of Dexter 'De Kid' Marques in the world flyweight ranks continued on Saturday night at the Cliff Anderson Sports Hall.

By Noelle Smith World ranked tennis player Sachia Vickery was Friday honoured by the Guyana Tennis Association (GTA) and showed her appreciation by giving back to the GTA and a  bevy of young players through a donation of tennis equipment.