Golden Jaguars International Vurlon Mills said despite lack of international experience within the squad, he is confident Guyana can qualify for the second round of the upcoming Caribbean Football Union (CFU) Championships.
Speaking during an exclusive interview, the Slingerz FC attacking midfielder said:"It's about challenging themselves, and being the better team at the end of the group stage. I think it's a fairly easy group they are in and they should be able to qualify."
According to Mills, who is currently recovering from a knee injury:"I don't think the countries in their group have a professional system or league. More or less Guyana will be competing against what they are accustomed to."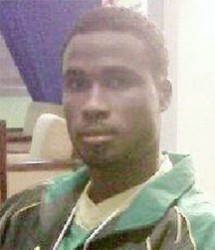 Asked about his thoughts on the makeup of the squad, Mills said:"Personally I don't think it's the strongest squad that could have been selected locally to compete at such an urgent tournament (CFU). This is a squad selected to be groomed in preparation for the 2018 FIFA World Cup Qualification."
He added:"All in all, I give them my support and the rest of Guyana should too. We know it's a lot of work to get this team prepared because most of the selected players have no international experience and that is my only fear for them in this tournament."
Quizzed how the dynamics of the team could be improved, he said:"I think the idea is good to have more locals integrated in the national team but at the same time we need the experience of players who have played professionally before.
"I think they should have mixed the team. I don't think the team is properly balanced, they should have mixed international experience with youths to be a more balanced side going into the tournament.
"Most of them who don't have the international experience, have not played professionally before. They are not accustomed to a different type of ball game, they are just accustomed to what is being played locally," he added.
Guyana will begin their tournament against Dominica on September 3 in St. Kitts and Nevis. In their second match, the local side is slated to face St. Lucia on September 5. They will end their group stage against the hosts on September 7.
Comments
Colts secured wins over Kobras and Plaisance Guardians in the Open and U-23 Divisions, respectively, when the Georgetown Amateur Basketball Association (GABA) League Championship continued on Sunday, at the Burnham Court, at Carmichael and Middle streets.

LONDON, (Reuters) – The gradual decline of West Indian cricket is hardly a new phenomenon but the latest capitulation of a once-dominant test match power has brought genuine expressions of sadness throughout the sport.

LONDON, CMC – The fallout from West Indies' humbling innings defeat to England in the opening Test weekend has continued with several of the Caribbean players slumping in the latest International Cricket Council rankings.
Upper Demerara Football Association (UDFA) and Essequibo/Pomeroon Football Association secured easy wins when the UDFA GT Beer Inter-Association Championship continued on Sunday, at the Mackenzie Sports Club ground, Linden, UDFA downed East Coast Football Association 3-1.

(Reuters) – England's Stuart Broad wants to play in the home Ashes series against Australia in 2019, the paceman has said after passing Ian Botham to take second place on the country's all-time list of test wicket-takers.