GRFU Road to Mexico commences with fitness training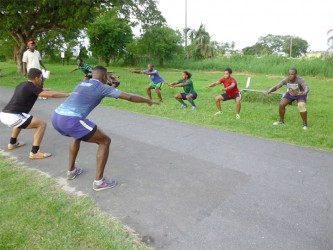 The Guyana Rugby Football Union (GRFU) has commenced physical training for its NACRA Sevens squash which is preparing to participate in the NACRA Sevens tournament December 3 – 4 in Mexico City, Mexico, a press release from the GRFU has stated.
The players (male) have commenced training two times a week Tuesdays and Sundays yesterday under Strength and Conditioning Instructor Barrington Browne. The sessions commenced yesterday in the National Park from 5pm.
Attendance at the training sessions will be used by the Selection Committee as criteria for the selection of the final team while several overseas-based players are expected to return home to join the squad.
Meanwhile the University of Guyana Wolves, Yamaha Caribs, Pepsi Hornets and Guyana Defence Force clubs have been invited to nominate 10 male players who they consider good enough to represent Guyana to participate in the training sessions
The female squad has also commenced training at the same venue under the senior player Elwin Chase.
Most Read This Week