Representatives of the Guyana Cricket Board (GCB) and West Indies Cricket Board (WICB) met recently with Sports Minister Dr. Frank Anthony to explore the possibility of a National School Cricket League here.
Present at the meeting were WICB Senior Project Officer of School Cricket, KJ Singh, GCB Secretary Anand Sanasie and GCB Territorial Developmental Officer Colin Stuart who proposed the joint WICB/GCB/GOG venture.
According to Singh, a research by the WICB found that almost 75% of member territories had significant gaps in their development pathway between age groups which encourage later development of cricketing skill sets.
Instead of the youth players grasping the fundamentals of the game between the ages 7-13, it is now done until ages 14-17 especially as it relates to hard ball cricket exposure at the school level.
Only the Under-15 age group is sustainable and functioning annually. Right now the most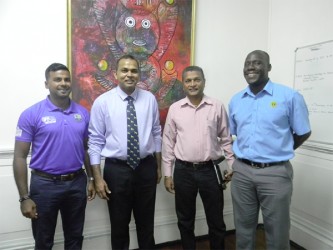 important group is the Under-7 to Under-11 age group. The WICB/GCB is hoping to have full tournaments in these different age groups in another two years' time.
Minister Anthony said he welcomed the initiative and discussed the proposed structure with the representatives while adding some ideas of his own. The Minister was of the opinion that when all the schools are staffed with a Physical Education Specialist, all the national sporting disciplines can benefit. He briefed the panel on the current plans by his government to develop Community grounds country wide.
Sanasie said that covering all schools in Guyana was a challenge because of the wide geography and number of schools. Focus on cricket is primarily done on the coastland and some parts in Essequibo but the GCB is working on bringing in Lethem and the North West soon. He stated that the National School Cricket League is a priority for him, the GCB and WICB as this will create a reliable feeder system for Guyana's club cricket.
Sanasie emphasized that a body was needed to run school cricket which the National Schools Cricket League can do. The concept of the league is to facilitate and streamline the planning, management and execution of all primary and secondary school programmes and tournaments with the overall mandate to develop and sustain a complete school cricket development pathway from U-9 to U-19 on an annual basis. It will manage all annual cricket programme and tournaments in primary and secondary schools across its territory; and develop and execute an annual schedule of community-based cricket matches for primary and secondary school (for both boys and girls), which will lead into the national schools tournament.
The National School Cricket League in conjunction with the GCB, Ministry of Sports, and the Ministry of Education would develop all playing conditions and regulation for all age group tournaments, secure sponsorship for all age group based tournaments and programme, promote migration of primary and secondary school cricketers to localized Club System, perform scouting exercises to identify talented players (both boys and girls) for further development at the club and national cricket system, work with the local cricket boards and national stakeholder to ensure that sufficient qualified human resources (school coaches, etc.) and cricket gear are available to build cricket capacity at all age groups in schools, develop proposal and seek sponsorship for the implementation of annual cricket infrastructure development initiatives at primary and secondary schools/community grounds, and monitor and manage all infrastructure development programmes.
According to Sanasie, coming out of the league should be one point person from the GCB (coach), one from the Ministry of Sports, and one from the Ministry of Education in each district. He added that the GCB will create an office with one person overlooking primary school, one secondary, and one the club structure.
Singh posited that one of the aims is have a games master in every school. Guyana has 19 qualified cricket coaches (level 1 and 2) who are spread across the country. Singh further informed that by 2017, at least one person in each school would be specialized at the foundation coaching level; they can be Physical Education teachers or anyone who is interested in cricket. The Senior Project Officer of School Cricket in the West Indies stressed that cricket is an expensive sport; hence, it's a challenge for everyone to acquire the equipment. Dr. Anthony suggested that his Ministry and the WICB/GCB work out an arrangement to buy equipment in bulk, as such, equipment can be made available at a cheaper and realistic cost for Guyanese cricketers. Singh agreed that it is a sensible move and promised to look into it.
The Minister said the ideas and visions are exciting and interesting. He advised the WICB and GCB to make a practical structure for the program.
The panel also met with Director of Sports Mr. Neil Kumar and Mrs. Desire Ogle, Administrator Allied Arts Department of the Ministry of Education and other officials to discuss matters pertaining to the rolling out of the programme and other related issues.
Around the Web