The Hornets players used their skill and experience and held their nerve to come from behind and sting a game UG outfit, 34-28 to lift the GRFU 10s league trophy yesterday at the National Park.
National captain, Ryan Gonsalves and fellow national players Christopher Singh Blaise Bailey and Elwin Chase as well as their second half defense were instrumental in the victory.
Gonsalves, the MVP of the day, put on a vintage performance, recording two tries and nailing two conversions. He was complimented by the Singh, Bailey and Chase who added five points apiece after crossing the try line.
Dane Parks also chipped in with a try to pad the score line.
A try by Ryan Dey and a Lance Adonis conversion got the UG Wolves out to a 7-nil lead.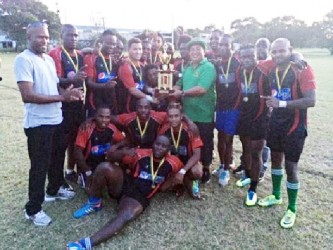 The fleet footed Oesi McKenzie then recorded a try followed by another Adonis conversion to put the students up 14-nil.
Singh and Parks tries and Gonsalves' conversion brought the Hornets up to 12 but McKenzie promptly scored again and Godfrey Broomes converted sending the teams to the locker room on 21-12.
However, the Hornets Saran Wrap defense nuzzled the wolf pack for the most of the remainder of the game which allowed them to claw back for the win.
Seconds before the final whistle, Adonis got past the relaxed Hornets defense and buried the conversion to make the scores more respectable and prevented the Hornets from blanking the Wolves in the second half.
"We want to keep the momentum going" said Gonsalves in a post-match interview.
There is the 7s tournament coming up and we are looking forward to winning that as well".
Rugby action continues on Sunday with the Banks 7s. See you there.
Comments

Despite the recent inclement weather, the spirit of the national rugby squad is far from dampened as the ruggers continue to prepare assiduously for the NACRA senior men's 15s Caribbean championships home game against Barbados on May 18.

By Emmerson Campbell The Guyana government will be giving financial support to the tune of US$10,000 towards the participation of the national men's rugby team at the Pan American championships in Guadalajara, Mexico and the NACRA championships in Barbados.
MONINO, Russia, (Reuters) – Russia believe they can  win their opening match on their rugby World Cup debut with  coach Nikolai Nerush saying their inclusion is a big boost for a  set-up which receives "peanuts".

The annual Banks DIH Sevens Rugby competition which was scheduled for yesterday in the National Park was postponed due to the heavy rainfall.

The Guyana Rugby Football Union (GRFU) will complete a successful School's Rugby Summer Camp today with a sight-seeing tour around Main Street, Georgetown.