The New York Softball Cricket League (NYSCL) winners of the Open category of the 2012 Guyana Softball Cup tournament, has high expectations for this year's tournament, says its president Eric Ferrier.
This year the NYSCL will compete in the Open and Masters categories.
"Make no mistake NYSCL has high expectations for both of our teams to return to New York as Open and Masters Guyana Softball Cup 4 champions," said Ferrier in a release.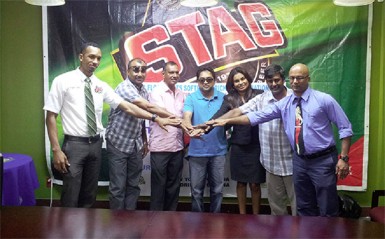 "We are coming to Guyana to play exciting and competitive softball cricket and at the same time to rekindle old acquaintance and to enjoy the great hospitality of our Guyanese brothers and sisters," he added.
The NYSCL teams have over the years experienced the highs and lows of competing in the annual tournament, said Ferrier.
"We have seen highs and lows over the past three Guyana Softball Cups. Yes! We've experienced the ultimate high when our NYSCL All Stars (Open Category} team was crowned the 2012 champions and lows when we did not make the playoffs in other years," he added.
The annual tournament, set for October 31 to November 1, is being run by the Guyana Floodlight Softball Cricket Association which is hoping to make this year's tournament not only the biggest but the best ever.
This year's tournament will be contested in two categories, men's open and Masters.
Over $10m has been ploughed into this year's tournament which will see the men's Open champion team receiving $800,000 first prize and a trophy with the runner up team receiving $200,000 and a trophy.
The winning team in the Masters' category (for players over 45 years) will receive $600,000 and the runners-up $150,000.
The Most Valuable Player in both divisions will receive a softball bracelet, made with gold and diamond studs from sponsors Steve's Jewellery.
Trophy Stall and New York Better will defend their Open and Masters titles.
Ferrier said he wanted to wish all the competing teams good luck.
"We would like to extend good luck to all the participating teams and
to the president of the Guyana Floodlights Softball Cricket Association and the executive board, the organizers, supporters and sponsors of Guyana Softball Cup 4, we, the New York Softball Cricket League, salute and extend our heartfelt thank you for giving us the opportunity to participate once again in your such wonderful colorful
and competitive competition," ended Ferrier.
Around the Web