The Guyana Softball Floodlight Cricket Association's (GFSCA) Guyana Cup 4 softball tournament concluded its preliminary and semi-final rounds yesterday with wins for Wolf Warriors, Wellman and Farm XI who stood out with victories in their respective categories.
In the Masters Category, Wellman defeated Regal Masters by seven-wicket compliments of knocks from L. Rooplall (42) and S. Persaud (40) who contributed handsomely with the bat. Rooplall earlier set up the win for his team after he captured 4-19 to shoot out the opposition for a paltry 121.
In the Open category, Wolf Warriors made light work of Uprisers defeating them by six wickets after reducing the latter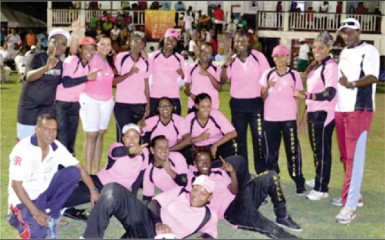 to 96 for 9 in 15 overs before returning to cruise to a total of 97-4 with Amit Rai striking a match-winning 27.
Defending Open category champs Cotton Field Wild Oats suffered another loss this time at the hands of Farm XI who inflicted a 10-wicket whipping on the former champs. Shafiek Ishmael's 4-19 was instrumental in Cotton Tree's meager total of 119 all out in 16.4 overs despite R. Narine's 32. Farm XI in reply made a breezy 120 without loss in 6.3 overs compliments of Patrick Khan's unbeaten 68 and L. Marks's 33.
Up to press time, results from the semi-final matches were unavailable. However, the finals under lights will take place this evening at the Demerara Cricket Club (DCC) ground will surely be a must-see. The winners of tonight's matches will receive spoils worth approximately two million dollars while jewellery in the form of diamond studded bands will be awarded to the MVP in both categories while patrons are eligible to qualify for a return trip to Aruba.
The female section of the Guyana Floodlight Softball Cricket Association (GFSCA) Guyana Cup 4 finals is also expected to be a high-octane encounter when 4R Lioness and Mike's Wellwoman clash in the first semi-final while Trophy Stall Angels clash with Karibee Warriors in the second of two highly anticipated female matches which is set for today.
Played under the lights of the Demerara Cricket Club (DCC) ground the two female teams will clash for supremacy while the male winners of the open categories will duke it out in front of an expected capacity crowd.
Trophy Stall Angels who are the defending female champions will look to walk away with their title making it three wins in a row. The first semi-final is expected to bowl off at 10:30hrs with the Lioness's playing Wellwoman while the second match will feature the defending Angles against the Karibee Warriors.
Winners will receive spoils worth approximately two million dollars while trophies and other prizes will be up for grabs.
 Results for the Masters category:
Parika Defenders beat Orlando Florida by 9 wkts.
Orlando 114 for 8 in 20 overs. S. Adams 36. R. Rambarose 4 for 21. Parika 116 for 1 in7 overs.
Around the Web