Hardcore Gym's Vijai Rahim and Life's Gym Chloe Hunter were the overall winners of the Senior Powerlifting Championships held yesterday at the St. Stanislaus College auditorium.
Rahim, who also claimed overall honours of the Guyana Amateur Powerlifting Federation (GAPF) championships last year, squatted 262kgs, bench pressed 148kg and deadlifted 272.5kg for a total of 682.5kg in the 66kg weight class.
All are new national records for the division.
Hunter had a squat of 115kg, bench of 62.5kg and a deadlift of 135kg for a total of 312.5kg to out duel BodyMaxx's Andrea Smith (295kg) in the 57kg weight category.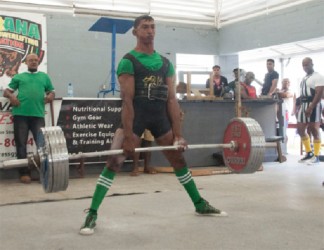 The mother of two wilks points (381.07) was superior to 84+kg winner Natoya Robinson (361.15) and Smith's (358.16) which enabled her to lift the overall women's trophy.
Rahim had a wilks total of 547.69 which trumped 74kg winner Winston `Little Master' Stoby's 491.94 and Rudolph Blackmon's 481.83.
Despite his second place overall finish, the 56-year-old Stoby is aiming to raise the bar next year.
At a time when most elite athletes are thinking of retirement, 'The Little Master' is thinking of medaling at the Pan Am Championships next year.
The former world Maters Two powerlifting champion is still regarded as one of the best in the world and the iron man is not ready to hang up his weights just yet.
Here is a summary of the top finishers in each weight class yesterday:
59kg Kevin Bijlall (500kg total), Navandra Tamesar (450kg total), Ahmad Rozon (440kg)
66kg Vijai Rahim (682.5kg)
74kg Winston Stoby (677.5kg) Osmond Mack (652.5kg), Paul Adams (630kg)
83kg Anis Ade Thomas (702.5kg), Hardat Tarson (700kg), Rudolph Blackmon (699kg), Erwyn Smith (625kg).
93kg Marino Jeffrey (700kg), Nigel Phillips (672.5kg), Martin Webster (547.5kg)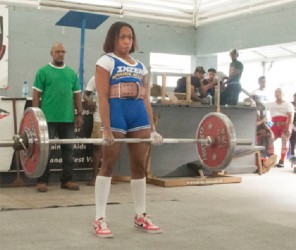 105kg Karel Mars (737.5kg), Jaglefh Budhram (560kg), Frank Tucker (382.5kg)
120kg Farouk Abdool (812.5kg)
120+Rondell Clementson (655kg)
57kg Chloe Hunter (312.5kg), Andrea Smith (295kg)
84+kg Natoya Robinson (452.5kg)
The first place lifters earned automatic selection for next year's international engagements.
As customary, Fitness Express was the major sponsor for the event.
Hardcore Gym was the Best Gym award winner. (Emmerson Campbell)
Around the Web