The annual Doubles Tennis tournament hosted by Trophy Stall, in its fifth year running saw the cancellation of the entire first day scheduled matches.
According to a press release from the Guyana Lawn Tennis Association, the ceremonial first serve to mark the beginning of the tournament was launched effortlessly by Sachin Puri at the National Racquet Centre amidst the threat of rain. In spite of the inclement weather, 10 doubles partners scheduled to play that day were ready for their encounters but the entire first day matches had to be cancelled due to the incessant downpour.
At the opening ceremony, boys champion Gavin Lewis, charged with the responsibility of tournament coordinator, encouraged the players totake the game seriously and to exercise good sportsmanship at all times especially during close line calls. It was for the first time, a junior was given such a responsibility.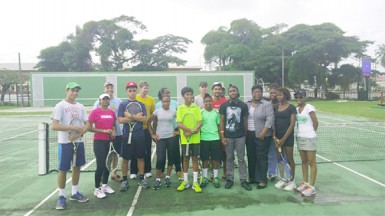 The tournament has on offer five categories namely: Men's Open Doubles; Ladies Open Doubles; Mixed Open Doubles; Men's Over 35 Doubles and Novice Medley Doubles. A total of 35 teams registered for this year's tournament. The day matches will be played over three weekends – November 29, December 6 and 13 at the National Racquet Centre and those scheduled for the evenings will be played at the Le Ressouvenir Tennis club will during the week.
Although absent from the opening ceremony, proprietor of Trophy Stall, Ramesh Sunich, signalled his expectation for a successful tournament. Grace McCalman, President of the Guyana Lawn Tennis Association, thanked the clubs for their renewed interest in developing their own tennis programmes and encouraging their players to improve their game. She also made special mention of the Non – Pariel club which maintains the largest number of novice players.
McCalman expressed gratitude to the CEO of ECI Engineering Services Limited, Sam Barakat for making the Le Ressouvenir Tennis facilities available for the night play.
November 30 had matches in three categories played: Ladies Doubles, Novice Medley Doubles and Men's Open Doubles. In the Ladies Doubles matches, the pair of A Dey and A Gentle defeated D Barrington and K Richmond in straight sets – 6/4 and 6/0. The same pair played a second match and won in straight sets over F Buschell and P hope – 6/1 and 6/0.
In the Men's Open Doubles Category, three matches were played with all the victors winning by straight sets. C Adams and A Erskine won over R Bostwick and O Dainty 6/2, 6/2; while D Lopes and P Squires defeated S David-Longe and J Stephney 6/3, 6/1. Stepheney and David- Longe, however, defeated J Goodluck and D King 6/4, 6/3. The final two matches for November 30 were in the Novice Medley Doubles in which the pair of S Puri and D Razick played twice and won 6/2 and 7/5 over the pairs of R Sawh/F Buschell and P Clarke and D Bharat respectively.
Around the Web