(Barbados Nation) Dwayne Smith was wielding a different sword yesterday.
Instead of his customary big bat, Barbados' most swashbuckling batsman was working on his golf game.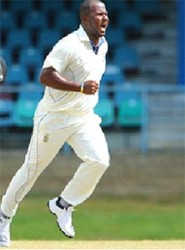 Smith will have much more time to work on his putting and driving now after retiring from first-class cricket yesterday, a few days after leading Barbados Pride to two consecutive victories in the West Indies Cricket Board's inaugural Professional Cricket League (PCL).
"It's sad to leave but I guess it's time to give the youngsters a chance to prove themselves," the 31-year-old posted on his Instagram account yesterday.
"It was a pleasure to play for my country Barbados in first-class cricket but all good things come to an end," the athletic all-rounder added.
Around the Web