Golden Jaguars international winger Trayon Bobb is expected to don the colours of the Georgetown Football Club (GFC) during the Georgetown Football Association's (GFA) Banks DIH year-end tourney.
Twenty-one-year-old Bobb has been playing professional football in Europe for the past two years and is set to play a significant part in the club's journey to become the Banks football champions, Team Manager Faizal Khan said in a press release.
"Trayon Bobb is a massive signing for us and highlights the ambition and intent of GFC to move forward as a football club now. Thanks also to Sambora Communications Call Centre for helping fund the sponsorship so GFC could make this deal happen to bring Trayon here," he said. "GFC have a young talented squad and Bobb is a model professional who will be a big influence on and off the field."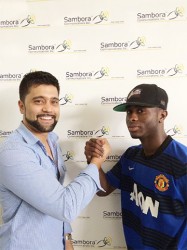 Khan further urged fans to "Come out and watch this awesome young Guyanese professional footballer who has just helped his European Pro Club qualify for the UEFA Europa League 2015."
Bobb's signing now means that the Uitvlugt-born footballer can now represent GFC in tomorrow night's 8:30pm encounter against Western Tigers at the Tucville Ground. Having represented clubs such as; Caledonia AIA in Trinidad and Tobago, Finland's TP-47 and Lithuanian club FK Kruoja, Bobb's experience and skill are expected to be a boon to the GFC.
In his debut for Guyana, Bobb scored both goals in the famous 2 -2 draw away from home versus El Salvador, securing Guyana's first ever away point in FIFA World Cup Quarter Finals Group, back in 2012.
Around the Web