BRIDGETOWN, Barbados, CMC– New rules are being considered for the new season of the Caribbean Premier League (CPL), organizers announced on Wednesday.
They include the use of international umpires for the semi-final and final as well as extending the match playing time to midnight.
The new rules were being pondered after a contentious end to the 2014 season, when the Barbados Tridents were declared winners on the Duckworth/Lewis method following a rain interruption.
"Towards that end, CPL officials, Franchise Owners/Partners and the Tournament Committee are currently reviewing the rules for the semi-finals and final with a view to using international umpires and match referees and extending the match playing time to midnight, if necessary." Said a statement released by CPL.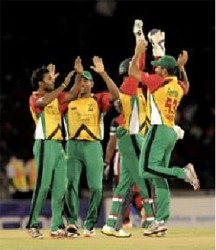 Meantime, last year's beaten finalist Guyana Amazon Warriors have called off their protest.
The warriors had written to the CPL complaining about the circumstances that led to the abrupt end to the rain affected final at Warner Park, St.Kitts.
After the rain stopped and mop-up operations completed, the stumps went back up but after a delay the match officials decided that the allotted time, including extra time had elapsed and the Barbados Tridents were declared winners.
"The Guyana Amazon Warriors Franchise and CPL are pleased to announce that the issue has now been resolved and brought to a closure," the CPL announced.
"After various consultations, both parties have agreed that, in the interest of this great game of cricket and in order to maintain the excellent reputation of the CPL, the matter is now closed and all parties concerned can now move forward to the planning and implementing of a bigger, better and more exciting 2015 CPL," the CPL added.
Around the Web