Regal obtained sweet revenge when they defeated Wolf's Warriors in the Rohan and Ramchand Auto Spares open finals, an encounter dubbed the rematch of the Guyana Softball Cup four (GSC4) open finals.
Regal outplayed the Warriors (the GSC4 champions) by a comprehensive 65-run margin to capture the title, on Sunday night at the Demerara Cricket Club ground.
Batting first, the victors reached 215-7 off their allotment of 20 overs, with Richard Latiff being the principal scorer with 80 runs. Latiff who opened the batting, struck eight sixes and two fours during his innings and added 100 with fellow opener Keon Joseph (18) and 50 with Sarfraz Esau, who made 26. Ricky Sargeant contributed an unbeaten 23 (1×4, 2×6). Bowling for the Warriors, Amir Nizamudeen and Mark Harold led the attack by claiming two wickets each.
In reply, the Warriors were off to a bad start after suffering two early setbacks slumping to 11-2. However, Amrit Rai and Safraz Karim gave their team's innings momentum by adding 67 for the third wicket. After Karim was dismissed for 30 (3×4, 1×6) and the Warriors lost two more quick wickets, Rai and Leon Leander rebuilt their team's run chase with an aggressive sixth wicket stand worth 56 runs.
The Warriors' final blow occurred when Rai was taken in the deep for 41 (2×4, 3×6) as he tried to accelerate the scoring rate. Leander remained unbeaten on 32 (2×4, 2×6) as the team ended well short on 150-6 in 20 overs. Privnauth Motilall claimed 2-22 while man of the match Latiff took 2-25.
In the over-40 finals, Floodlight got past Mike's Wellman by eight wickets. Wellman was restricted to 131 all-out in 9.4 overs. Terrence Daniels made 26, Hardat Heranadan 23 and Nigel Estrado 19. Imtiaz Mohamed captured 4-18, Richard Persaud 2-17 and Reyaz Hussein 2-23. Floodlight made light work of the run chase and cruised to 132-2 in 15.3 overs. Ramesh Narine stroked 84 (6×4, 7×6) and Persaud 37.
Slingers overpowered Parika Defenders by 36 runs to finish third place in the over-40 category. Slingers managed 149-3 in 10 overs batting first, with Mohamed Rafeek top scoring with 64. Parika Defenders replied with 113-8 in 10 overs. Hackim Mohamed made 25 while Rafeek and Rudy Mayers took two wickets each.
Angels vs Wellwoman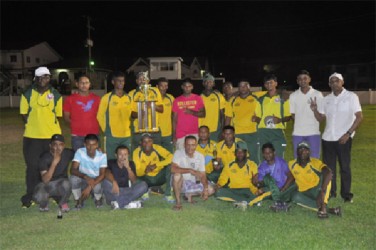 Meanwhile, the Trophy Stall Angels triumphed over Mike's Wellwoman to win the women's division. Trophy Stall made 80-8 in 10 overs, taking first strike. Kavita Yadram got 14 while Zola Telford and Latoya Smith had two scalps apiece. Wellwoman were restricted to 74-8 in 10 overs in reply. Amanda Bobbsemple made 20 and Abena Parker 18. Yadram returned with the ball to capture 2-15.
The individual awards recipients for performances reads: Ricardo Adams (open), Wayne Jones (over-40) and Latoya Smith (female) who were judged MVP. Patrick Khan (Farm), Sadik Yusuf (Farm), Diaram Persaud and Narine Bailey of Wolf's Warriors were rewarded for taking five-wicket hauls. Adams (Wolf's Warriors), Harrinarine Dilchand (Uprisers), Patrick Khan, Nizam Khan (Challengers) and Ejaz Mohamed (Uprisers) received prizes for scoring centuries in the open division.
The Over-40 centurions were John Samir (Floodlight), Danny Gangadin (Fisherman), Wayne Jones (Floodlight) and N. Chand (Industry).
Around the Web