Zachary Persaud of Marian Academy and student of the Jaguars Karate Association (JKA) recently received his medal after emerging as winner in his school's Inaugural Cup tournament held on October 20, 2014 at the Everest Pavilion, Camp Road.
Persaud was the standout karateka for his school who underwent their mini tournament, as the JKA has intensified its drive to increase membership and promote karate across the country.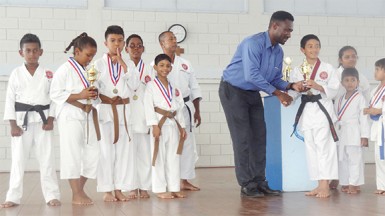 The Jaguars Karate Association under the leadership of its Chief Instructor Sensei Chetram Mortley is an independent karate entity legally and officially recognized by the world karate organization, the International Karate Daigaku whose headquarters is in Toronto, Canada.
The mini tournament saw the enthusiastic involvement and participation of many students from Marian Academy comprising of a boys team and a girls team with the boys emerging as the champions.
Around the Web