After rattling St. Stanislaus College for a record low 23 runs, Sophia Cricket Club galloped to an eight-wicket victory to continue their impressive run in the Georgetown Cricket Association (GCA)/ New Building Society second division 40 overs tournament.
Played at the Gandhi Youth Organisation (GYO) ground yesterday, St. Stanislaus won the toss and opted to bat but were affected by poor shot selections which led to their demise. They were blown away for 23 runs in 6.5 overs as Malcolm Morris and Khalil Duncan combined to capture six wickets. Morris ended with 3-12 while Duncan claimed 3-7.
Sophia in return, cruised to 26 in four overs but lost two wickets along the way. Miguel Vaughn made 10. The win give Sophia its third win from four matches and increased their chances of a semifinals berth.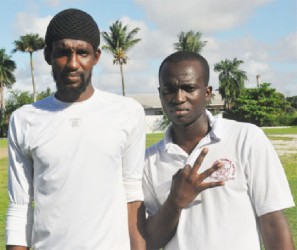 Unfortunately for Sophia, their poor run of form continues, raising concerns about their participation at this level in GCA's cricket.
Across at the Malteenoes Sports Club (MSC) ground, the host MSC won by means of a walkover against Everest Cricket Club and gained full points to move to second on the point standings as the GCA/Hadi's World Inc. first division two day competition continued.
At 3:55 pm, the match officials declared the win in MSC favor after the absence of the Everest team at the time play was scheduled to commence. According to a source who was present at the venue throughout the day, four of Everest's players were present in the morning and informed the match officials that their team will be at the ground by the tea break. The match was scheduled to start after the tea interval because the ground and pitch got wet from early morning rain.
However, when the umpires inspected the pitch and were ready to call play, not a member of the Everest team was present. MSC moved to 103 points from six matches with the win and are now behind front runners, the Demerara Cricket Club (DCC), who are placed on 132 points from seven games.
Around the Web