Up and coming pugilist, Keevin Allicock punched his way to the best boxer award on Sunday when the third and final Demerara Distillers Limited (DDL) under-16 tournament concluded at the Andrew 'Six Head' Lewis Gym.
After clinching a victory against Shaquille Wright in their highly competitive, punch-filled bout, the Harpy Eagles product gained the judges nod for the coveted trophy.
The crowd pleasing Allicock put on a dazzling display of attack and defense, counter punching his Essequibo Boxing Gym opponent to earn a unanimous victory in the 100-104-pound category.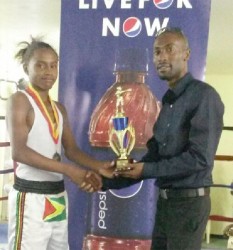 However, Shaquille's brother, Shaquancy snared the trophy for the boxer with the most potential after outpointing Allicock's gym mate, Kevin Mullings.
Gerald Williams (60-64 pounds), Leon Moore (65-69 pounds), Isaiah Moore (85-89 pounds), Anton Wolf (95-99 pounds) and DeSean Elcock (115-119 pounds) were also in the winners' row Sunday.
There was also an exhibition bout involving Quincy Boyce of the GDF gym and Essequibo Boxing Gym's Akile Mounter.
President of the Guyana Boxing Association (GBA) Steve Ninvalle stated yesterday that the incident free competition was successful and that the level of under-16 boxing has improved tremendously.
"We have seen marked improvements in the level of competition at the under 16 level.
"It's a clear indication of what sponsorship can do and from all indication of what we have seen in the past three years, I would think that if we continue in this vein there are many things we can expect from the next crop of senior boxers."
The GBA head also heaped praises on the local conglomerate for their continued support of the annual fixture.
"It would be remiss of us if we don't thank DDL for their unwavering support and I honestly expect to see much better from the boxers in 2015."
Ninvalle also pointed out that the association will perhaps need to include the under-16 boxers in the Goodwill Tournaments to pit the young pugilists against others in the region.
The competitions were sponsored under the Gatorade and Pepsi brands. (Emmerson Campbell)
Around the Web