(The Sports Xchange) – Highlights of Tuesday's National Basketball Association games:
– – –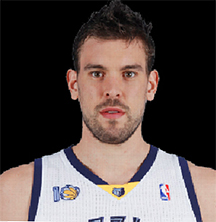 Grizzlies 105,
Warriors 98
Center Marc Gasol scored 24 points and power forward Zach Randolph added 17 points and 10 rebounds as the Memphis Grizzlies ended the Golden State Warriors' 16-game winning streak.
The match-up of the two teams with the best records in the NBA ended with the Grizzlies improving to 20-4 overall and 12-1 at home.
Golden State (21-3) got 22 points from guard Klay Thompson and 19 points from guard Stephen Curry.
After a driving layup from Memphis point guard Mike Conley made it 95-88 with 3:05 left, both Golden State coach Steve Kerr and guard Andre Iguodala were hit with technical fouls for arguing that Conley had traveled.
Guard Courtney Lee made both free throws for a 97-88 lead.
– – –
Heat 95, Knicks 91
Miami guard Dwyane Wade, who was a pre-game doubt due to an undisclosed illness, scored a game-high 28 points in a contest that was delayed for a half hour in the first quarter due to a leaky roof.
The Nets were led by center Mason Plumlee, who had a season-high 21 points.
– – –
Pelicans 119,
Jazz 111
New Orleans forward Anthony Davis, playing with a protective jacket to shield bruised ribs that kept him out of the previous contest, scored a game-high 31 points to lead a comeback victory.
The Pelicans trailed by 14 points early in the fourth quarter and had not won a game in eight previous attempts this season when losing at the final break.
However, Davis came alive down the stretch as the Pelicans out-scored the Jazz 41-22 in the fourth to seal the win.
– – –
Mavericks 107, Knicks 87
Dallas placed five players in double figures, led by Dirk Nowitzki's 16 points, to east past New York.
Knicks forward Carmelo Anthony led the Knicks with 26 points and guard Tim Hardaway Jr added 14 but New York failed to score at least 100 points for the 21st time this season.
They are 3-11 at home and have lost by as many as 20 points on three occasions.
– – –
Wizards 109,
Timberwolves 95
Guard John Wall had 21 points and 17 assists, and swingman Rasual Butler had 18 of his 23 points in the fourth quarter as Washington held off Minnesota.
Butler went 7-of-8 from the field in the final period with three three-pointers for the Wizards, who are winners of five in a row and nine of 10 overall.
Around the Web