Distance dynamo, Cleveland 'Fish' Thomas will be looking to make a big splash in 2015 following a successful campaign this year.
The Running Brave Athletic Club standout was a consistent performer here and on the international circuit, winning three events and placing in the top 10 of several others.
"I started the year off on a high, winning both Cross Country competition's first in Berbice then in Georgetown then I placed second in the Wartsila 20km."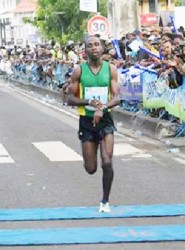 Thomas then took his talents overseas.
"I went to Chile for the South American Games where I did well but didn't medal, I returned from there and went to Trinidad to run at the Southern and Falcon Games which I did well at.
After that I went to Suriname to do two Telesur 10km races with two weeks apart which I placed second in both. I went back to Trinidad for the Trinidad and Tobago National Senior Championships where I placed second in the 1500m running my fastest time for the year in that event."
His local road season started soon after. Thomas expounded.
"I placed second in the Ainlim 10k then I went on to win the Courts 10k. From my excellent performance in the Courts 10k, I earned an invitation to the NACAC 10k in Guadeloupe where placed eighth overall and third for Caribbean athletes."
Thomas' sublime form continued in the two legs of the South American 10km events he competed in here (third) and in Suriname (second).
He then placed seventh in a half marathon in Martinique (first for Caribbean athletes) which he dubbed his best race over that distance.
"I would say that was my best race for the year with a personal best in the half marathon at 1:14:55 and I finished my year with winning a wonderful 5k in the National Park two weeks ago.
I also did a PB in the 10k for the year in the first Telesur 10k in Suriname with a time of 32m: 30s. I had a good year."
Arguably, the highlight of his performances came in his Court's 10km triumph in which he recorded the fastest local 10km winning time in recent memory.
The ever improving Thomas stated that when the calendar flips to 2015, he will be riding the high tide of 2014's momentum.
On the track, I am hoping to qualify for the Pan American Games in Toronto, Canada and the World Championship in China and on the road, I am aiming to run a 30-minute 10k, with a time like that I can go any part of the world and do well in 10k's."
Thomas is confident of exceeding his 2014 exploits next year. His optimism is fueled by his work ethic.
Thomas credited his maker, his coaches, his family and sponsors for aiding in his success and stated that he is looking forward to their support in the New Year. (Emmerson Campbell)
Around the Web