The student ruggers from Guyana?s highest learning institution flourished at the recently concluded Tobago Sevens and returned with the Calabash Plate to add to their silverware cabinet.
Skipper of the UG Wolves, Rondell McArthur told Stabroek Sport yesterday that he is proud of his charges who finished third overall among the 15 teams after a shaky start on the first day of the two-day championships last weekend.
It was a remarkable effort by the guys,? McArthur noted. He also pointed out that ?to come back from a not so well first day and dominate day two with one loss and three consecutive wins show that a Guyana-bred team was not to be taken lightly until the end of the tournament.?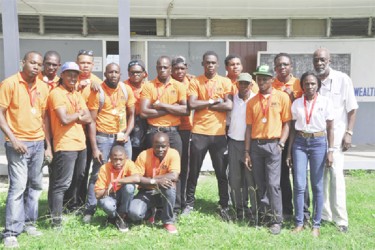 Overall, the Wolves howled to four wins, drew one game and lost two with Lance Adonis spearheading the offense with five tries and two conversions.
Godfrey Broomes and Owen Adonis added three tries each while Phabian Joseph, Ryan Dey and McArthur chipped in with two apiece.
During yesterday?s interview with McArthur, he credited coach Lawrence Adonis and Manager Lavern Fraser for the team? success.
Adonis manned the sidelines expertly but was reserved about his duties, noting that his wolf pack got the job done.
The boys did well against the teams we played against, I tip my hat to them for performing at a tournament that had such international flavor.? He said.
For the tournament which attracted clubs from the USA, Canada, Australia, South Africa and the hosts, Coach Adonis stated that it was " a real good experience for our players who held their own adding that for 2014 he saw about 80% growth for the improving university ruggers.
This augurs well for their 2015 campaign. (Emmerson Campbell)
Around the Web