Guyana's junior men's hockey team continued their positive showing on their tour of Trinidad and Tobago, defeating a Trinidad national u-19 second selection outfit by a 2-0 score line on Wednesday.
Ato Greene netted the opener for the Guyanese after deflecting an initial attempt from captain Mark Sergeant into the back of the goal. Guyana then sealed the hard-fought win in the second half of the match-up when Aroydy Branford netted.
On Tuesday, Guyana squeaked past a Trinidad national u-19 first selection unit by a 2-1 score line. Fresh off their 2-1 win over Paragon Hockey Club on Monday, Guyana fell behind when Jordan Reynos netted compliments of a penalty corner conversion.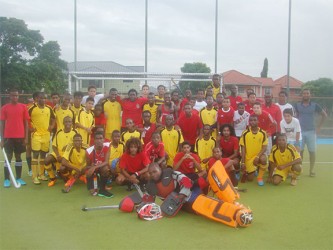 However, the local unit responded quickly and Greene netted. Guyana then sealed the win in the final minutes of the second half when Sergeant etched his name on the scorer's sheet. The local side is slated to return home today.
Around the Web