NEW DELHI, (Reuters) – Phillip Hughes's tragic death cast a shadow over an eventful year that saw Ashes rivals Australia and England brawl on the field and bond off it, joining India to pull off a bloodless coup and take charge of the game.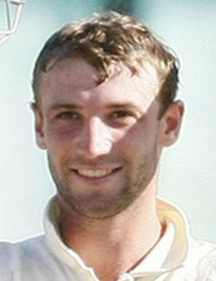 Australian Hughes died at a Sydney hospital on Nov. 27, two days after being hit on the head by a bouncer three days before his 26th birthday.
The tragedy triggered an avalanche of tributes while questions were raised about the safety standards in the game.
Hughes scored 1500-odd runs in 26 tests but will be remembered more for the impression he left on team mates and opponents.
"I don't know about you, but I keep looking for him," distraught Australia captain Michael Clarke, a near-constant presence at Hughes's bedside, said at the funeral.
"I know it is crazy but I expect any minute to take a call from him or to see his face pop around the corner. Is this what we call the spirit? If so, then his spirit is still with me. And I hope it never leaves," he added.
Hughes's death came in the year that compatriot Mitchell Johnson and South Africa speedster Dale Steyn were hailed for reviving the art of intimidating fast bowling.
ASHES WHITEWASH
Left-arm paceman Johnson, recalled after more than a year in the test wilderness, took 37 England wickets in Australia's 5-0 Ashes whitewash, instilling fear in the minds of the batsmen with his raw pace.
The tourists' campaign down under looked doomed from the start and they continue to reel in the aftermath of an Ashes debacle that ended the England careers of coach Andy Flower and
flamboyant batsman Kevin Pietersen.
The trouble started when top order batsman Jonathan Trott flew home with a stress-related illness after the first test in Brisbane and was compounded when off-spinner Graeme Swann announced his shock retirement after their third straight defeat.
The English board offered little explanation as it cast aside Pietersen beyond a need to rebuild "team ethics" and the South Africa-born player went on to chronicle embarrassing details of dressing room controversies in his autobiography.
BIG THREE
While the Ashes rivals locked horns on the field over the coveted urn, they joined hands with the powerful Indian board in a significant development that effectively put the "Big Three" in charge of the game.
The International Cricket Council (ICC) passed key reforms that promise the trio a greater share of the revenue pie, while projecting higher earnings for other boards as well.
India's Narayanaswami Srinivasan took over as ICC chairman in June even before he was cleared by a committee probing corruption in the Indian Premier League (IPL) in which his son-in-law was implicated for illegal betting.
The cash-strapped West Indies Cricket Board (WICB) voted in favour of the ICC reforms hoping to revive its fortune but now stare at financial trouble instead, having incurred the wrath of the Indian cricket board, which is the world's richest.
Enraged by the pull-put of the West Indies team midway through a series over an internal pay dispute, the Indian cricket board has severed cricketing ties with the Caribbean board and made a $42 million damages claim.
The governing ICC also showed urgency in dealing with the menace of chucking, leading to bans on a number of bowlers, including Pakistan off-spinner Saeed Ajmal, for illegal action.
Elsewhere, Sri Lanka gave their outgoing stalwarts Kumar Sangakkara and Mahela Jayawardene a perfect farewell by winning the Twenty20 World Cup in Dhaka, beating India in the final.
New Zealand's Corey Anderson took 36 balls to score the fastest century in ODIs while India's Rohit Sharma blasted a 173-ball 264 to register the highest ODI score by a batsman.
Around the Web