(Reuters) – Skipper Steve Smith scored a controlled 133, Mitchell Johnson a game-changing 88 and Australia's tail wagged vigorously as the hosts barged their way back into the second test against India on day three in Brisbane yesterday.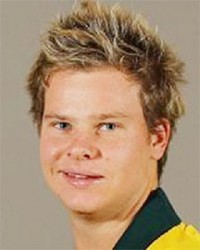 Australia took a first innings lead of 97 after being dismissed for 505 to bring up tea and India had shaved 71 runs off the deficit by the close of play for the loss of one second innings wicket.
Murali Vijay, who contributed 144 to India's first innings tally of 408, departed for 27, leaving Shikhar Dhawan (26 not out) and Cheteshwar Pujara, who had made 15, to resume today, 26 runs behind.
Australia had looked to be facing a sizeable deficit of their own when they lost two wickets in the first hour to slip to 247-6 but Smith and Johnson combined for a Gabba record seventh-wicket partnership of 148 runs from 160 balls.
Both fell to paceman Ishant Sharma in the same over an hour after lunch but Mitchell Starc (52) continued the resistance with his fourth test half century and partnerships of 56 with Nathan Lyon (23) and 51 with Josh Hazlewood (32 not out).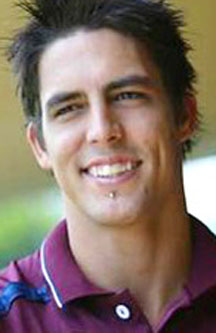 Starc was the last Australian batsman to fall but the left-armer returned after the innings break to bowl Vijay when the Indian made the mistake of leaving an angled delivery.
Smith, deputising for the injured Michael Clarke, became the first Australian to score a century in his maiden test as captain since Graham Yallop in 1978.
 CAPTAIN'S KNOCK
It was his second century of the series after his unbeaten 162 in the opening test victory in Adelaide last weekend and a fourth in eight matches this year.
"I wanted to lead from the front with my performances so hopefully I've done that so far in this game," Smith told reporters. "To be fair, our whole tail batted beautifully and to get us up over 500 was remarkable." It was Johnson's pugnacious 93-ball knock, though, that turned the day in Australia's favour after Indian controlled the first hour and dismissed Mitchell Marsh and Brad Haddin cheaply.
Fired up by some sledging and short balls from the tourists, Johnson stopped the rot in no uncertain fashion by clubbing the ball around the ground with 13 fours and one six. The lefthander looked to be heading for his second test century when he chased an Ishant delivery only to get a top edge which Mahendra Singh Dhoni snaffled up behind the stumps.
Smith, who had brought up his century with his 10th four just before lunch, followed five balls later when he chopped on to be dismissed for the first time in the four-match series.
"We tried our best to get them out but you always have this up-and-down phase in cricket and sometimes your strategy doesn't work," India paceman Umesh Yadav said.
"The wicket is a bit slow. It's good for batting now. We will take a good lead and after that we'll see."
SCOREBOARD
Australia India 1st innings 408 (M. Vijay 144, A. Rahane 81; J. Hazlewood 5-68)
Australia 1st innings (Overnight: 221-4)
C. Rogers c Dhoni b U. Yadav               55
D. Warner c Ashwin b U. Yadav           29
S. Watson c Dhawan b Ashwin              25
S. Smith b I. Sharma                             133
S. Marsh c Ashwin b U. Yadav               32
M. Marsh b I. Sharma                              11
B. Haddin c Pujara b Aaron                   6
M. Johnson c Dhoni b I. Sharma            88
M. Starc b Ashwin                                  52
N. Lyon c Ro. Sharma b Aaron             23
J. Hazlewood not out                             32
Extras (lb-4 nb-10 w-5)                         19
Total (all out, 109.4 overs)                   505
Fall of wickets: 1-47 D. Warner,2-98 S. Watson,3-121 C. Rogers,4-208 S. Marsh,5-232 M. Marsh,6-247 B. Haddin,7-395 M. Johnson,8-398 S. Smith,9-454 N. Lyon,10-505 M. Starc Bowling I. Sharma 23 – 2 – 117 – 3(nb-6 w-2) V. Aaron 26 – 1 – 145 – 2(nb-4 w-1) U. Yadav 25 – 4 – 101 – 3(w-2) R. Ashwin 33.4 – 4 – 128 – 2 Ro. Sharma 2 – 0 – 10 – 0
India 2nd innings
M. Vijay b Starc                                     27
S. Dhawan not out                                  26
C. Pujara not out                                    15
Extras (lb-2 nb-1)                                    3
Total (for 1 wickets, 23 overs)                71
Fall of wickets: 1-41 M. Vijay To bat: V. Kohli, A. Rahane, R. Sharma, M. Dhoni, R. Ashwin, I. Sharma, V. Aaron, U. Yadav Bowling M. Johnson 8 – 3 – 29 – 0(nb-1) J. Hazlewood 6 – 0 – 24 – 0 M. Starc 4 – 1 – 10 – 1 S. Watson 5 – 3 – 6 – 0 Referees Umpire: Marais Erasmus Umpire: Ian Gould TV umpire: Simon Fry Match referee: Jeff Crowe
Around the Web