CENTURION, South Africa, CMC – Embattled West Indies were staring at yet another defeat inside five days, after their chronically weak batting imploded again here yesterday, to leave South Africa in complete command of the first Test.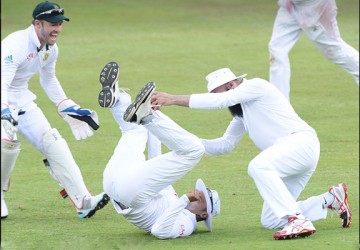 Replying to the hosts' imposing 552 for five declared, West Indies collapsed for 201 all out in their first innings on the third day of the contest at SuperSport Park, and were forced to follow on 351 runs behind.
At the close, they were fighting on 76 for two, still requiring a further 275 to avoid an innings defeat.
There was perhaps no sign of what would unfold with West Indies cruising at 72 without loss and then 162 for three, 45 minutes before tea.
However, seamer Vernon Philander sliced through the innings to finish with four for 29 and fellow fast bowler Morne Morkel claimed three for 55, as the Caribbean side lost their last seven wickets for 39 runs.
Injured fast bowler Kemar Roach was unable to bat.
West Indies' batsmen were guilty of getting starts but then failing to carry on. Opener Devon Smith, a late replacement for the injured talisman Chris Gayle, top-scored with 35, his partner Kraigg Brathwaite scored 34, while Marlon Samuels chipped in with 33 and Leon Johnson, 31.
Veteran left-hander Shiv Chanderpaul managed only 21.
Smith and Brathwaite gave West Indies a positive start to the day, playing confidently against South Africa's new ball attack.
The left-handed Smith was tentative early on but grew in confidence, welcoming the introduction of rookie quick Kyle Abbott with two successive fours on either side of the wicket, in the 11th over of the morning.
Brathwaite, meanwhile, capitalised on his opportunities. He gathered the first boundary of the morning when he punched fast bowler Dale Steyn through cover off the back foot and followed up with a whip to the square boundary off Philander five overs later.
With West Indies becoming entrenched, Philander struck twice in successive overs to remove both openers. In the fourth over after the first drinks break, Smith was given out caught behind on review, after the decision initially went in his favour.
He appeared to miss a pull at Philander and though replays were inconclusive, the decision was surprising overturned. He faced 74 balls and struck six fours in 98 minutes at the crease.
In Philander's next over with one run added, Brathwaite followed Smith, caught at first slip by Hashim Amla, after hitting five fours off 61 balls, leaving the Windies to rebuild.
Samuels then underpinned two solid partnerships as West Indies fought back. He added 44 for the third wicket with Johnson, helping to take West Indies to lunch at 110 for two, before putting on a further 45 for the fourth wicket with Chanderpaul.
The left-handed Johnson had batted an hour, faced 42 balls and struck four fours when he drove Abbott airily to cover in the third over after lunch, for substitute Robin Petersen to pouch the gift.
Samuels, who faced 66 deliveries in two hours at the crease and counted five fours, then combined with Chanderpaul to push the Windies up to 149 without further loss, at the first drinks break of the session.
Concentration seemed to wane again on resumption and West Indies lost Samuels, cramped for room on the back foot and playing onto Morkel at 169 for four.
Chanderpaul was gone 22 balls later with only seven runs added, squirting Philander to Alviro Petersen at second slip and Jermaine Blackwood hung around three-quarters of an hour over 12 before Petersen snared his second in the same position off the fired-up Philander.
Captain Denesh Ramdin failed to lead by example, producing a loose drive and tapping a tame catch to cover off left-arm spinner Dean Elgar to fall for 14, as West Indies slumped badly.
Asked to follow on, West Indies were in trouble early when Smith was caught in the cordon off five off Philander, with just eight runs on the board in the fourth over of the innings.
Johnson, unbeaten on the close on 33, then put on 44 with Brathwaite (20) to hold up South Africa's quest for further breakthroughs.
And the pair seemed set to take the Windies to the close without further loss when Brathwaite pushed firmly at a full length delivery from Morkel and edged to second slip where Petersen held a brilliant catch on the second attempt.
Scoreboard
SOUTH AFRICA 1st innings 552-5 decl.
WEST INDIES 1stInnings
K Brathwaite c Amla b Philander 34
D Smith c de Villiers b Philander 35
L Johnson c sub (R Peterson) b Abbott 31
M Samuels b Morkel 33
S Chanderpaul  c Petersen b Philander   21
J Blackwood c Petersen b Philander 12
*+D Ramdin c van Zyl b Elgar 14
J Taylor c & b Morkel 4
S Benn not out  6
S Cottrell b Morkel 2
K Roach absent hurt
Extras (lb6, w3) 9
TOTAL (all out; 60.2 overs) 201
Fall of wickets: 1-72, 2-73, 3-117, 4-162, 5-169, 6-184, 7-193, 8-193, 9-201.
Bowling: Steyn 14-3-53-0, Philander 15-6-29-4, Abbott 14-3-50-0, Morkel 15.2-4-55-3, Elgar 2-0-8-1.
WEST INDIES 2nd Innings (following on)
K Brathwaite c Petersen b Morkel 20
D Smith c sub (T Bavuma) b Philander 5
L Johnson not out 33
M Samuels not out 13
Extras (lb2, w3) 5
TOTAL (2 wkts, 27 overs) 76
To bat: S Chanderpaul, J Blackwood, *+D Ramdin, J Taylor, K Roach, S Cottrell, S Benn.
Fall of wickets: 1-8, 2-52.
Bowling: Steyn 0.5-0-3-0, Morkel 7.1-1-26-1, Philander 3-3-0-1, Abbott 3-0-11-0, van Zyl 10-2-11-0, Elgar 3-0-12-0.
Position: West Indies trail by 275 runs with eight wickets standing.
Toss: West Indies.
Umpires: Aleem Dar, Billy Bowden; TV – Paul Reiffel.
Around the Web