If president of the Guyana Olympic Association (GOA), K Juman-Yassin had one New Year's wish, it would be the realization of local athletes and coaches becoming full-time paid professionals.
"I would like to see an approach being made whereby our athletes could be professionals or semi-professionals to start with. Our coaches should become professionals. We cannot expect to be successful and to win if our athletes have to work and then train in the afternoon, we cannot go anywhere with that."
Juman-Yassin made the comments in the presence of the media, federation heads and members of his association at the GOA's annual holiday social Friday night at his Lamaha Gardens residence.
Expounding, the long standing GOA head added "We need to be in a position where athletes can be full-time, our coaches to be full-time and on this note, we need to have a sports policy from the government so that they can identify the criteria whereby athletes can be granted the funding."
Juman-Yassin pointed out that many Caribbean island-states fund their athletes adding that unless this approach is taken by the government, local sportsmen and women will continue to be at a disadvantage and 'will continue to struggle.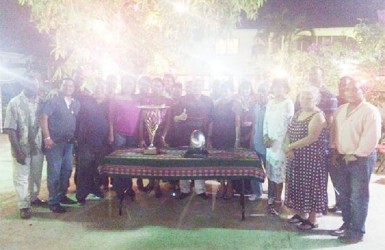 "When you look at Trinidad, the government puts money there and if athletes do well they get funding. In England, if you do well you get funding, if you don't do too well, the funding stops, we need to be in a position where we can do this. Unless and until we do this we will continue to struggle," he stated.
During the social which the guests were treated to a sumptuous dinner, desserts and cocktails, Yassin heaped praises on the national men's rugby team and its union who were instrumental in the 'Green Machine' winning both the NACRA 15s and 7s Championships while qualifying for the Pan Am Games. The GOA's president pledged his continued support for the ruggers and the GRFU.
"Rugby has done exceedingly well, we have supported the rugby union and we will continue to support them.
"We have appointed Mr. Noel Adonis, a former president of the rugby union to liaise with them to see how much we can assist and I am certain that we will be in a position to assist enormously, be it facilities, coaches whatever, we will try to see what we can do.
"Compliments to rugby, they have made Guyana proud but they are heading to a higher form of competition so let us do what we can do and hope for the best."
Christmas came early for four associations as they were presented with cheques from Yassin to help with their development. The associations are the Amateur Bodybuilding and Fitness Federation, the Guyana Karate Federation, the Guyana Amateur Weightlifting and the Guyana Netball Association.
"It's a night for appreciation, it's the last meeting of the year for the associations and normally we meet together and we have a little social to end the year on a positive note," Juman-Yassin concluded. (Emmerson Campbell)
Around the Web