ST.JOHN'S, Antigua, CMC-West Indies Cricket Board president Dave Cameron says that the decision by the board to approve a recommendation for rookie fast bowler Jason Holder to be appointed new one-day captain was unanimous.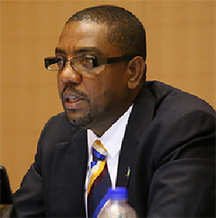 WICB selectors, chaired by Clive Lloyd, recommended the 23-year-old Barbados pacer as captain of the ODI squad ahead of the five-match series against South Africa and just two months before the ICC World Cup in Australia and New Zealand.
Holder takes over the reins of team from seasoned all-rounder Dwayne Bravo who has been sacked after just 19 months in charge and also dropped from the 15-man squad named to face the South Africans.
"I don't have anything to say. I think you should speak to the selectors," said Cameron.
"I don't pick the team…You will have talk to the selectors and they will give you their philosophy on why they picked the team. It is not for the president to talk about".
Holder has played one Test and 21 One-Day Internationals since making his international debut in February last year.
He has been widely viewed as having leadership qualities, having already served as vice-captain of the West Indies A team as well as of the Barbados Tridents in the Caribbean Premier League.
"The captain of the team has to be approved by the Board," declared Cameron.
"The recommendation came (from the selectors) and the Board were unanimous in their approval".
Meantime the Trinidad and Tobago director on the WICB Baldath Mahabir has weighed in on the debate saying that it is very rare the board would dispute the recommendations from the selectors.
"What we were asked to do was to approve the change in captaincy. The Board does not get involved in team selection at all…You would have seen Mr Lloyd's justification and the Board approved it. It did not come with a removal," Mahabir explained.
"It came with a recommendation for Jason Holder to captain the team and it is very rare that the Board will turn down a recommendation from the selectors".
Around the Web