MELBOURNE, (Reuters) – Brad Haddin has backed the elevation of Steve Smith to the Australian test captaincy in place of the injured Michael Clarke for the remainder of the India series, despite being overlooked for the caretaker role himself.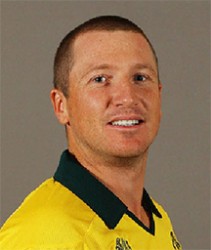 As vice-captain, the 37-year-old wicketkeeper would have been first cab off the rank for the position once it became clear that Clarke required surgery on the latest in a string of hamstring injuries.
Instead, after Haddin took charge for the last couple of hours of the 48-run victory in Adelaide, Cricket Australia turned to 25-year-old Smith, who led the team to a four-wicket victory in Brisbane last weekend.
"I think they've made a very brave and good decision in making Steve the captain. I think it's the perfect time for him," Haddin told reporters at the Melbourne Cricket Ground (MCG) ahead of this week's third test.
"He's a good leader, he's only young but he's going to get better and better at it.
"I think the decision was an outstanding one. He's got a good core of senior players to help him out if he needs it. But things are going well, he's a good thinker about the game and he still wants to learn.
"I'd much rather you remember the last two hours at Adelaide than do it full time."
While Smith has been enjoying a purple patch with the bat, scoring 375 runs at an average of 187.5 in the series so far, Haddin has been struggling with that aspect of his game and has only 92 in the last seven tests.
"I'm not concerned about it, all my preparation and everything is okay, I've just been out of runs," Haddin said.
"I'm not stressed about it or worried about it, the game will turn my way, the runs will come and it will be my turn soon.
"I've been in these situations before, that's cricket. I'm comfortable where my game's at, everything's going in the right direction, I'd just like to get more runs."
Haddin, who was undone by a short ball in Brisbane, is expecting India's pace bowlers to come out firing on all cylinders in the third test, which begins on Friday.
"The Indians showed their hand in Brisbane, that they're going to be quite aggressive," he said.
"We've got an Indian team playing some quite good cricket but we want to wrap up the series in Melbourne."
Around the Web