(The Sports Xchange) — Chicago chased the Toronto Raptors for most of the game before Chicago put up a franchise-best 49 points in the fourth quarter to secure a 129-120 points victory.
Led by starting Chicago (18-9) guards Derrick Rose (29 points) and Jimmy Butler (27 points, 11 rebounds), the Bulls outscored the Raptors — the top team in the Eastern Conference — by 12 in the final quarter.
Kyle Lowery scored a game-high 34 points, and center Jonas Valanciunas added 20 points for Toronto (22-7).
– – –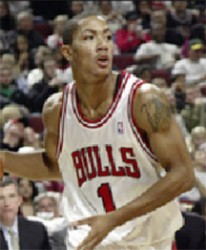 Hawks 105, Mavericks 102
Atlanta point guard Dennis Schroder scored 22 points to lead a balanced attack in the Hawks' win over the Dallas Mavericks.
The Hawks (20-7) earned their fourth consecutive win and 13th in the past 14 games. Atlanta is in second place in the Eastern Conference.
The Mavericks (20-9) lost despite 13 points and 11 assists from Rajon Rondo who was playing his second game since being acquired in a trade.
– – –
Spurs 125, Clippers 118
Tony Parker dropped 26 points on the Los Angeles Clippers, leading the Spurs to a victory that snapped a four-game losing streak.
Parker returned to his spot at point guard, after missing eight of the last nine games with a strained left hamstring, as San Antonio (18-11) earned a season-high output in points and assists with 37.
Chris Paul led the Clippers (19-9) with 25 points and nine assists.
– – –
Rockets 110, Trail Blazers 95
James Harden poured in 44 points in a whirling dervish performance to carry the Houston Rockets to a victory over the Portland Trail Blazers.
Harden added seven assists and five steals to help the Rockets (20-7) snap a modest two-game home losing skid. He had 31 points by the intermission, capping his fabulous first half with a buzzer-beating driving layup that pushed the Rockets to a 76-56 halftime cushion.
The Trail Blazers (22-7) had their five-game winning streak snapped.
– – –
Hornets, 110, Nuggets 82
Al Jefferson scored 22 points in less than three quarters of action, and the Charlotte Hornets cruised to their third straight win with a victory over the Denver Nuggets.
The Hornets (9-19) never trailed, leading by as many as 23 in the first half and then pushing the lead to as many as 30 in the second.
– – –
Jazz 97, Grizzlies 91
Alec Burks scored 23 points and Gordon Hayward added 21 as the Jazz wrapped up their six-game pre-Christmas road trip with a win over the Memphis Grizzlies.
The Grizzlies (21-7) played without injured starters Tony Allen and Zach Randolph.
It was the Grizzlies' third game in four days and Memphis' third consecutive loss — the franchise's longest losing streak since December 2013.
Around the Web