Turfites get ready, the stage is set for the Kennard's Memorial Turf Club (KMTC) grand horse race meet which is scheduled to run off tomorrow at the club's track at Bush Lot Farm, Corentyne, Berbice.
The annual Boxing Day event has been one of the country's traditions over the years and this year's meet is being deemed the 'biggest' in recent years.
In excess of $6m in stakes and prizes will be up for grabs on the seven-race card.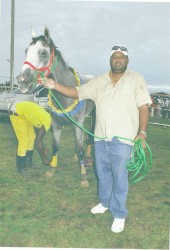 The feature A and Lower, One mile event will see the top steed owner pocketing $1M.
Guyana's premier trotter, Score's Even along with Treacle (2014 winningest horse), Run Na Na Run, Settle in Seattle, Bridlestone Corner, Church House and others will feature in the above event.
In the co-feature D3 and Lower race, the first horse will take home $500,000 for its owner.
Other races for the Boxing Day meet include the G3 and Lower ($300,000), K and Lower ($100,000), I and Lower ($250,000), the J3 and Lower ($150,000) and the G3 and Lower Handicap ($300,000).
International jockeys will be coming in from Barbados, Jamaica, Trinidad and other countries to participate in the meet and more horses are expected to compete in the races this year.
According to Secretary of the KMTC, Niketa Ross, she expects to see "80 to 90 horses competing on Boxing Day".
Action starts from 13:30hrs. Admission is $1200 for adults.
Conditions
1) The races will be run under the rules of the Guyana Horse Racing Authority.
2) In the event that there are less than five horses entered for any event, the club reserves the right to cancel or reframe the said event or reduce the prize money after consulting with the horse owners.
3) Owners of horses must pay at least $5000 for each horse at the time of entry. If not paid, the horse's name would not appear on the official programme and the horse will not be permitted to run.
4) Five horses to start before a third place prize is paid.
5) Seven horses to start before a fourth place prize is paid.
(Emmerson Campbell)
Around the Web