Georgetown Football Club (GFC) team manager Faizal Khan believes the elevation of younger players to the senior ranks alongside the hard-work deployed by first team coach Vurlon Mills, are the main reasons behind the club's rise in 2014.
Speaking in an exclusive interview, he said "We have given youth a chance and on many occasions ahead of some senior players at times. Sorry to say but GFC has a number one rule, if you don't train, you don't play."
Khan, who is currently out of the jurisdiction said:" I think in Guyana for too long we have been accustomed to a club football culture where our more talented ballers don't train all week and then turn up five minutes before the game and start. We are never going to develop a league environment here in Guyana that will produce players ready to step directly into professional football if that continues.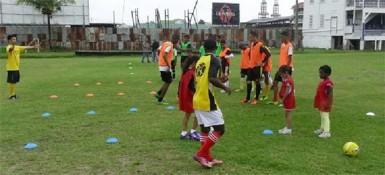 "I also personally think the hard work of a young talented coach in Vurlon Mills is a major reason for the team's elevation in 2014. Mills is the first person at training and one of the last to leave, a model professional," he added.
According to Khan 2014 started very badly for the club as former national and club head coach Peter Lashley was tragically killed on February 14th 2014.
He noted: "After some decisions and sacrifices it was agreed to maintain Peter's legacy and memory. Golden Jaguar international Mills (who Peter found and brought into club football) would coach and myself would take on the responsibility of coaching the GFC U17's on a short term agreement with the club executive," he said.
Questioned how he would describe 2014 in relation to the club's development and eventual progression, Khan said: "2014 has been a year of restructure and progress for the club. I think it's fair to say within 3-6 weeks of Vurlon and I coaching the U17's, the results and performances started speaking for themselves. Now the U17 squad can compete at the very top of the U17 tournaments and this programme is the secret behind the first team's success of late."
He added: "Over 10 U18 players that have for over six months learnt the new GFC system of play and shown great discipline, consistency and an acceptable level of physical, technical, tactical, social and psychological skills with the U17 squad have been rewarded by getting the nod to be involved with the GFC senior team. A great example of this was the GFC 2-0 win in the GFA league against Pele who up to that point were unbeaten in the league".
Asked what he considers the high point of the club's year, he said "I think with this young squad to qualify out of group-B in the Banks Beer Cup on goals scored and into the quarter finals ahead of the reigning GFA first division league champions Fruta Conquerors was a massive achievement for everyone involved with GFC.
"The team, despite all odds, showed great character and desire which was a good sign for the future. At the start of the game we knew we would have to score more than 10 goals and hope Western beat Fruta. We all believed in ourselves as a team and we did it.
"I think all great clubs have all their teams playing to the same football philosophy. GFC has this now from the U11 programme to the U15, U17 and senior teams. They are all training to the same system of play with the coaching staff in line and believing in the greater united good."
He added: "Having all teams training to the same system makes it easier for a young talented player to step up and know how his teammates will play and what is expected of him."
Quizzed on the long-term goal of the current management staff, he declared:" I think the key ingredient to building a successful football club is getting everyone to buy in and believe in the same vision going forward. From the club owners, executives, management, coaches, players and club employees, we all are going to be working to the same professional football plan.
"We are currently scouting for more talented young disciplined players to come and join the GFC revolution. If you are a player that wants to train 4 days a week and develop your football the right way, we want to hear from you. In the future I believe you will see GFC move from amateur to semi-professional status and then to full professional status.
"We would like to continue to shock the nation and continue to finish ahead of teams deemed up and until now as bigger teams than ourselves. We also would like to continue to play our brand of exciting attacking football so our fans can say win, lose or draw, GFC is the right club for Guyanese young players to come and learn proper football that pro clubs oversees will be interested in looking at," he said.
GFC is set to faceoff with national heavyweights Alpha United in the quarterfinal stage of the GFA Banks Beer Cup today after navigating a difficult group featuring heavyweights Western Tigers and Fruta Conquerors alongside minnows Houston Stars.
Around the Web