Pele FC survived 15 minutes with a numerical handicap of nine men to defeat Riddim Squad 3-2, sealing a berth in the semi-final section of the Georgetown Football Association (GFA) Banks Beer Cup on Thursday at the Georgetown Football Club ground.
Despite Konata Manning and Okeene Fraser being sent off in the 75th and 76th minutes respectively, Pele would hold on to secure the hard-ought win following goals from Omallo Williams in the 36th and 61st minutes and Deon Alfred in the 81st minutes.
Scoring for the losers in the 69th and 79th minutes correspondingly were Sheldon Hope and Julian Forris.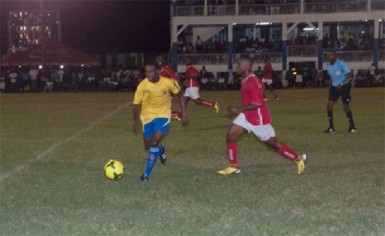 Contested in front of a sizable crowd, Williams broke the deadlock with a simple finish into the back of the net from within the area, after receiving pass from Alfred who pounced on the ball following successive failed clearances by two defenders.
Pele would take a 2-0 lead 16 minutes into the second half as Williams netted his double in a fortuitous manner, finishing into the empty net from within the area after swooping down on a loose ball following a collision between the goalkeeper and another player from a cross.
Sheldon Hope would then cut the deficit to one for Riddim Squad eight minutes onward, lobbing his effort into the back of the net over the advancing custodian from within the area, after racing onto a lobbed ball that dropped behind the Pele rearguard.
Pele would then be reduced to nine men in the space of a minute as Fraser and Manning picked up their second bookable offence.
The Mocha based side would quickly capitalize on their numerical advantage three minutes onward as Forris netted through a headed attempt into the back of the net after collecting a cross from a corner kick, to spark wild celebrations.
However, the revelries would quickly be forgotten as Alfred netted what would prove to be the go-ahead winner.
Racing into the centre of the area, Alfred would smash his powerfully struck effort into the net, following another failed attempt at a clearance by the defender from a right sided cross, after Calvin Shepherd skipped past three markers before delivering the fatal ball.
In the opening matchup of the night, inaugural tourney winners Alpha United overcame home side GFC by 3-0 score line.
Dwight Peters broke the deadlock in the 49th minute through a penalty kick conversion while Sheldon Holder and Dwain Jacobs sealed the hard-fought win in the 76th and 83rd minutes respectively.
Alpha United will now await the winner of the Western Tigers and the Guyana Police Force showdown in the semi-final section.
Around the Web