(The Sports Xchange) – Dwyane Wade scored 31 points as the Miami Heat spoiled LeBron James' homecoming, defeating the Cleveland Cavaliers 101-91 on Thursday night at AmericanAirlines Arena.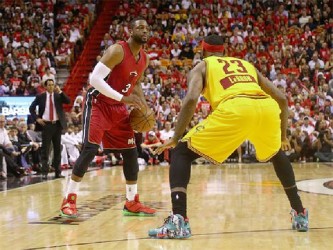 James, who led the Heat to two NBA titles in the past four years before bolting back to Cleveland as a free agent, scored 30 points and handed out eight assists.
Wade, who shared a big hug with James just before tipoff, scored 24 of his points in the first half. Heat forward Luol Deng finished with 25 points.
Miami, which has won 11 consecutive games in its series against Cleveland, improved to 6-10 at home this season. The Heat (14-16) have won just two of their past eight home games.
Cleveland (17-11) got 25 points from guard Kyrie Irving and 14 from forward Kevin Love. Since starting the season 5-7, the Cavaliers are 12-4.
– – –
Forward Pau Gasol scored 23 points against his former team as the Chicago Bulls cruised to a 113-93 win against the Los Angeles Lakers.
Guard Jimmy Butler added 21 points for the Bulls (20-9), who extended their winning streak to five games.
Gasol also pulled down 13 rebounds against the Lakers, with whom he won two NBA championships and spent seven seasons before signing a three-year contract with Chicago last summer.
The Lakers (9-20) lost for the fourth time in five games and stumbled to 5-10 on the road. They played the second consecutive game without guard Kobe Bryant, who sat out because of soreness.
Bulls guard Derrick Rose scored 20 points with six assists in nearly 32 minutes.
– – –
Guard Russell Westbrook scored 34 points and dished out 11 assists to help the Oklahoma City Thunder defeat the San Antonio Spurs 114-106.
Fans in San Antonio, and a national television audience, were denied a marquee matchup of small forwards when Oklahoma City's Kevin Durant and San Antonio's Kawhi Leonard sat due to injuries.
Thunder center Steven Adams had 16 points and 15 rebounds, including seven offensive boards, while forward Serge Ibaka scored 21 points.
Forward Matt Bonner led the Spurs (18-12) with 17 points.
– – –
Point guard John Wall totaled 24 points and 11 assists and the Washington Wizards rolled to a 102-91 victory over the New York Knicks at Madison Square Garden.
Wall posted his 17th double-double and made 10 of 17 shots from the field as Washington (20-8) avoided its first three-game losing streak.
Shooting guard Bradley Beal added 17 points as the Wizards shot 51 percent from the floor (44 of 86). Forwards Nene and Kris Humphries contributed 14 and 12, respectively.
Forward Carmelo Anthony scored 34 points for the Knicks, who lost their sixth in a row.
– – –
Reserve guard Jamal Crawford scored 24 points and grabbed seven rebounds, and the Los Angeles Clippers shook off a rough first half to defeat the Golden State Warriors 100-86 at Staples Center.
Point guard Chris Paul had 22 points, seven rebounds and four assists and forward Blake Griffin finished with 18 points, 15 rebounds and six assists for the Clippers (20-10), who ended a two-game losing streak. Center DeAndre Jordan added 14 points and 12 rebounds. Shooting guard Klay Thompson led the Warriors with 15 points, while point guard Stephen Curry finished with 14 points, nine rebounds and seven assists.
Around the Web