'African' drumming and the Caribbean

Particularly in the Caribbean the subject of drumming becomes very pertinent whenever African culture or the Month of Black History is celebrated.  This association of drumming with African or Black culture arises from both a recognition of its relevance and a continuing misconception.  This discussion of drumming tries to address both.
It is true that drumming is very important in African culture and plays a number of vital roles therein.  But perhaps that fact might have contributed to a misunderstanding of drumming, and this is noted particularly in the Caribbean.  This misconception has three parts.  First there is a very loosely applied notion that drumming is African.  This is, of course, an extremely loose and carelessly applied association because it is widely known that drumming cannot only be black culture because it exists in many other cultures and parts of the world.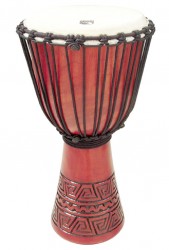 The second is an extension of the first – there is the equally casual belief that all you have to do to make a performance African is to play drums.  For example, an 'African dance' is simply a dance performed with drums.  In these cases it is often forgotten that African dance has characteristics that make it different from other dances (Indian dance, for example), which are not simply satisfied by the use of drums.  There are Indian dances – the kathak – that are closely interwoven with drumming.
The third issue is associated with a difficulty in accepting drumming as music.  It needs to be better appreciated that drumming is a musical form, the drum is a musical instrument and there are different kinds, just as there are different forms of music in all cultures.  A general term used is to 'beat drum'– going along with this is that drums are not played like a musical instrument, they are just beaten.  You need not acquire the fine art of playing, you merely beat the drum.  In Guyana the techniques and the meaning of Indian drums such as the dholak or the tabla are taught in classes.  They have close spiritual/religious connections which players learn.  I am not aware of organised attempts to teach African drumming (the real variety) in Guyana.  African drumming has deep spiritual/religious connections that are mostly unknown; in Guyana this constitutes knowledge that is lost, largely because it is not, has not been, taught and learnt.
This spiritual factor in African drumming will be the main focus in this discussion.  And even though the general broad term 'African' is being used it is worth remembering that 'Africa' is not homogenous.  This is a huge continent with several different cultures and as many drums.  The focus here will be on West and East Africa, but more specifically, those elements which were brought over and have managed to survive in the Caribbean.
Part of the misconceptions about drumming in this part of the world might have come from the types of African drums that are commonly seen in the Caribbean – these are the popular types of folk instruments which are widely fashioned and used.  Because they are folk, and are really derived from old traditional instruments, they are generally regarded as 'African.'  Most of them, however, are not really any of the authentic types, although they were originally fashioned from them and are secular, with no spiritual associations.  So because of these commonly seen folk drums used by the black population, the African identity is applied and misapplied. Among the common names known are the congo or bungo drum.  The 'conga' especially is used by bands – string bands – in recording studios, parties and party music, stage shows and concerts.  However, in their original forms, most of these drums were spiritual.  The conga, of course, derived from the Congo of Central Africa, while the bungo is a deep spiritual (faded) tradition most recently known in Trinidad.
These are very appropriate examples of what is being discussed here.  Because of their wide and common usage and the knowledge that they derived from Africa, people are led to associate them with African drumming and dance, and to believe that the mere use of them makes a dance African or make what is being played African drumming.  In the casual attitudes to these drums, one is fairly oblivious to the fact that there are real forms of African drumming that have characteristics which make them African and which have to be learned.  Most of these characteristics are to be found in old traditions in the Caribbean, and most of them are spiritual or have religious roots.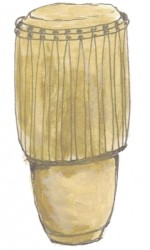 While dancing or listening to a hot soca session in which congas (congo drums) and bungos are mixed, few will remember that the bungo is so called because of its religious origins.  The bungo is a spiritual dance associated with the African ancestor worship.  It is used in a dirge and is a dance associated with death.  It is a rite of passage that sends off the deceased and accords him passage to the realm of the ancestors.  That particular drum is used and the drummer plays the bungo rhythm for the dance.  Errol Hill has a play called Dance Bungo which speaks to the waning and loss of meaning of these traditions in a Trinidadian village called Cedar Post.  And poet Eric Roache laments the disregard and the vacancy in the knowledge of the youth about these traditions in the poem 'Verse in August.'  These works could well be talking about Guyanese drummers who play (beat?) these drums with no knowledge of the ritual, the rhythms or the tradition.
African drumming is therefore not simply the use of 'African' drums but the performance of music with the characteristics peculiar to the form.  There are too many types of West and East African drums for me to attempt to mention them all here.  Many are played with the hands or with the fingers, with straight sticks, curved sticks or padded sticks.
Most famous are the bata drums which are large and the talking drums which are smaller and very tonal.  They 'talk' because they can imitate the sound pitches in the tonal languages of Africa.  This tonal quality is one of the important characteristics because African drumming is known to be based on the combination of different beats and tones which when put together make up a rhythm.
 It often takes two or three drums to play a rhythm, sometimes additionally accompanied by a variety of other percussion instruments like the shak-shak, triangle or katta stick.  Many of these rhythms have significant meaning.
As an example, it is useful to refer to the Rasta rhythm.  This is a very typical combination of three drums – bass, rhythm and playing drum, cutting drum or 'melody.'  The bass is a heavy drum played with a large padded stick, while the rhythm is known as the funde – a smaller middle-sized drum with a neutral pitch that keeps the main beat and timing.  It is played with the palms of the hands.  The cutting drum is a small, very highly tuned tonal high-pitched instrument called the kette, played with the fingers.  This is the lead drum that 'cuts' – plays a 'melody,' a melodious counterpoint to the funde rhythm using a great deal of creative improvisation, although it must never break or violate the rhythm.  This sound is Jamaican, and is not known to have come from the African continent, but its form is typically African; all the characteristics just described may be found in the way African drumming operates.  Moreover, it is the ceremonial drumming of the Rastafari and therefore has religious significance, like so many African rhythms.
Similarly the masquerade (maskarade) rhythm is played with two main drums – a bass and a kittle ‒the kittle being the small tonal lead drum played with two sticks.  Maskarade music is rounded off by the sound of the fife (a folk instrument – flute) and is a really curious case.  The kittle drum is derived from the European military kettle drum, like so many other elements in maskarade, but the tradition is thoroughly African and originally came over with the forced immigrants.  This is another example of the spiritual because masquerade in West Africa and early Caribbean maskarade is/was religious ritual.  The spiritual has now disappeared from it.
The Bahamian jonkannu still uses the goombay (gumbay) drums, which used to be associated with obeah and were known to be played in Jamaican jonkannu up to the early twentieth century (see Martha Beckwith, Black Roadways).  The gumbay, then has spiritual roots although the practice today is secular.
The Shango, still practised in Trinidad among Yoruba survivals, is a good example of spiritual African drumming.  There is a distinct rhythm that belongs to the Yoruba god Shango (Sango) and is played to invoke his spirit in ritual ceremonies.  This is another typical African characteristic, where a drum rhythm belongs to and is used to invoke a particular spirit.  It is also typical in its combination of sounds – there are two distinct sounds, one low-toned and heavy, the other a high-pitched tone, highly tuned cutting drum.  Other percussion is used here, like the iron.  As is hinted here, it is also a feature of African drumming that it is often used for spirit possession.
 The rhythms are learnt by the drummers who have the skill to play them to invoke spirits.  Since dancers may get possessed by spirits, both wanted and unwanted, there are drummers who know how to play to gently, safely take possessed dancers out of their trance without any harm to them.  Other similar types are the Jamaican kumina (in which the katta stick enhances the percussion) and the Guyanese kumfa.
So as not to leave the impression that African drumming is all or only about spirits or deep serious ritual, there are secular rhythms for parties and revelry.  Perhaps the best example is the West African high-life, a little known in the West through the recordings by Nigerian musicians Fella and Olatunji.  This music is driven by drum rhythms with a lively, intoxicating, driving pace anchored by a bass that keeps a measured four-part time.  The only spirits associated with this are liquid and found in bottles, but just as intoxicating as the music itself.  The bass drum heard in high-life, is exactly the anchoring base heard in soca.
African drumming then, is complex, varied, wide, and of considerable depth.  It is said that the slaves used it to communicate and for insurrection, and surely there are some warlike rhythms in the Caribbean like the kalinda and the juba (see Gordon Rohlehr, Calypso and Society in Pre-Independence Trinidad).  It is an art to be studied and learned – a serious tradition, not like the casual, trivial meaningless drum-beating that is often called 'African drumming' in Guyana today.