– dance production retains colour, spectacle

The performance of Nrityageet 35 last weekend to mark Guyana's celebration of Arrival Day on May 5 will have to be highly commended. It was a full dance production with some colour and spectacle, as varied in quality as it was in forms and styles, but in the end a major achievement.
It was directed by Dr Seeta Shah Roath, performed by the Nadira and Indranie Shah Dance Troupe and a number of guests, mixed in impact and energy, but representing a demonstration of history, dedication and endurance.
Nrityageet is a tradition in Guyanese dance theatre. It demonstrates artistic pursuit and perseverance creating a monument that refuses to go away. Merely to sustain an annual dance production as consistently and for such a long time as this, is for that alone, worthy of high praise. But to have done it when most of the major players lived overseas for most of that period, surviving the untimely death of one of them, and to have grown to celebrated standards, winning a national award and various theatre awards, is the achievement of history on the Guyanese dance stage.
The Nadira and Indranie Shah Dance Troupe, MS, was founded by the Shah sisters Nadira and Indranie in collaboration with Seeta, in 1979 and started the show Nrityageet to celebrate Indian arrival in Guyana. They did this first with explorations of Indian dance, researching and performing various forms of classical and folk dances before their interests widened. These wide interests were well reflected in Nrityageet 35 last week which was noted for its variety. After extensive research in eastern forms they added western dance, modern, interpretive and other interests to their repertoire. At the same time they expanded into a school teaching dance to all ages.

What is also of interest is that the production of the annual dance theatre became the work of three generations of the Shah family as Bhanmattee Shah was one of the producers/directors. Before her departure from the country, she was mainly responsible for one area of the group's highest attainment – excellence in spectacular costuming for which the production won awards. The third generation is emphatically represented by Suzanne Shah Nilsson who is now the company's outstanding dancer and one of its choreographers.
What is more, this contribution to national dance was tangibly recognised by the government when the company was awarded the Medal of Service (MS). The troupe has also represented Guyana at Carifesta.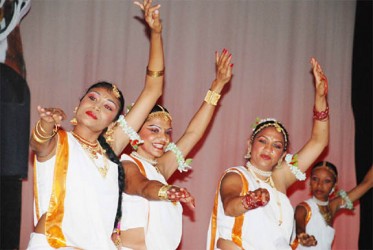 With the residence overseas of Nadira Shah Berry, Indranie Shah Lennartson, Bhanmattee Shah and Suzanne Shah Nilsson, Seeta Shah Roath has taken the task of keeping both troupe and production alive locally. As far as Nrityageet 35 is concerned, she managed it quite efficiently. It was tightly directed and stage managed with evidence of smooth coordination, which served to fit many disparate items together and manage a large cast.
The determination and boundless energy of Shah Roath was much in evidence. The show was manageable and of sensible length – a near 2-hour exhibition of dance. It depended on many guest performers whose inclusion and coordination were seamless. There were two areas in which this annual production has excelled in the past – costuming and set. In this show there were flashes of brilliance in these areas, but not notable consistency, as it depended on individual pieces and different performers as much as it must have done on the actual weight of the workload.
Another local player on whom the dance troupe has relied is Rewattie Datt who advanced steadily to be a main choreographer and lead dancer. In this production she had a solo 'Folk-Filmi Impressions' which was an indication of the many different interests which Nrityageet now embraces – moving into filmi imitations (a form they resisted for some time). Datt also had a number of joint works with others including a team-up with Shah Nilsson.
It was Nilsson who was outstanding among the members of the troupe, more than once being responsible for the brilliance on show. For this troupe, she is the dancer of the moment, in addition to being a competent choreographer. The piece 'Temptress' stood out. It was in all respects a collaborative work, danced by Nilsson and one of the guests, Kijana Lewis, and choreographed by William Roath, not previously heard of in this department. Against a very effective set and appropriate lighting, this seductive pas de deux was excellently performed by Lewis and Nilsson with the delicate blend of sexuality and virtuosity. There the enchanted audience could well have been beholding two parts of the future of dance in Guyana.
Nilsson, who has moved up from heir-apparent to star performer, also teamed up with the lady who dominated Nrityageet as dancer-choreographer for the entire period while Nilsson was growing up – Nadira Shah Berry. They produced the two-part work 'Rafi Favourites – a dedication to Bhanmattee Shah'. It was a deserving tribute to the Shah matriarch but existed in two parts. There was a marked difference between the work of these two and the second part by Indira Itwaru and Sonya Singh. Itwaru and Singh have some distance to go to keep those traditional standards and the strength of the troupe.
There was confident authority in the kathak of Shah Berry, as this is a form she has researched and danced through her career. Her vivacity and energy were much subdued in Nrityageet 35, but the level of assurance she demonstrated was not uniform in the production.
Indeed, this was indicative of marked differences that were evident throughout the show. There were several new works and new choreographers-performers, including guests Texila American University. These exhibited a sameness and tameness in the work they did, contributing to the mixed and uneven quality seen in the production as a whole.
In stark contrast was the guest performance of 'E-Motif', by the National Dance Company choreographed by Vivienne Daniel. A class act in Nrityageet 35, it was not just impressive, it was emphatic. There was depth and meaning to the dance done in captivating costume with grouping and images that captured the admiration of the audience.
But Nrityageet was continuing its practice of showing a variety and range of dance, concomitant with its policy of including groups and performers outside of the troupe. That might also have been the rationale behind 'Elemental Fusion' choreographed by experienced artist Linda Griffith and danced by a combination of the National School of Dance and the Seniors of Nrityageet. It was another demonstration of the higher heights to be attained and which were not evident in many of the other pieces.
There is obvious strain in sustaining this tradition in local dance theatre. Founder Shah Berry might have shown it on stage, but her sister Shah Roath on whom not only this production, but keeping the project alive seems to have rested, showed no sign of exhaustion. Indeed, they are both to be congratulated for this achievement.
Surprisingly, it was mostly the newer choreographers and dancers who appeared to be in need of artistic renewal and invigoration. The work facing the company now is in that area. But there should be no doubt that it is capable of bringing that off. The abilities of a company that has persevered and achieved for 35 years with the same principals cannot be taken lightly. Never mind the limitations of Nrityageet 35, it has earned its place in history and must be commended.
Around the Web