Caribbean History
A flower falls on a leaf,
the forest sleeps, and
waves are on holiday
El Dorado sings of love
as Columbus listens
in a plastic boat.
Guacanagari flies to New York,
— Nobody needs the Sargasso.
Juliet watches soap operas,
and wonders where
real heroes are gone.
Magdalene stops by a store
named 'Apostle's Feet'.
— What are winged sandals for?
Exploring city slums

in a purple limousine
Cleopatra examines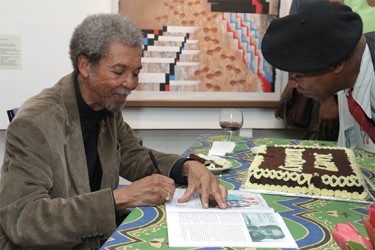 all painted doors.
Other VIPs visit
St. Elsewhere-in-the-sun
for rum and water skis.
There is no oracle,
only fraudulent cinemas.
Elections come –
now and then,
like bowls of free soup.
Old Moses says.
— Democracy works!
Citizens of some lands
stare in one-eyed belief.
But rum-jumbies
dance with people, and
— who don't see don't care.
 Stanley Greaves
One of Guyana's outstanding masters of art, Stanley Greaves, was recently celebrated in a number of ways. His most recent exhibition of paintings was put on show at Castellani House; the National Gallery of Art also hosted an event in honour of the artist's birthday; and he was additionally distinguished by being presented with the first Lifetime Achievement Award of the Guyana Visual Arts Competition and Exhibition 2014.
The GVACE Award citation recognised "a lifetime of artistic and philosophic output of the highest order, for his sustained creativity, his keen engagement in the artistic life of the nation and his generosity in the sharing of his gifts, for his profound and unshakeable faith in the power of the imagination to transform the self and the world.
"The Government and people of Guyana and the Guyana Visual Arts Competition and Exhibition feel deeply privileged to recognise the originality, creativity, industry and humanity of Stanley J. Greaves and take great pride in making this special citation to his honour."
This gives him a very privileged position where the GVACE and national art are concerned because he was Chairman of the Panel of Judges for the 2012 competition, the first in this new dispensation of the national competition and exhibition – it was recalled to life in 2012 after having disappeared in the mid-1990s. This was an appropriate and timely tribute as he is celebrated in the same acclamation as the art of the nation itself.
But Stanley Greaves is also a poet, and if it is said that he is better known and more acclaimed as a painter, it is no fault of the poetry. It is only because of the exceptional standards and achievement set by the art and the fact that he was a foremost national artist long before the appearance of his first book of poems. Yet to claim that his painting and sculpture are more prominent contains quite an irony because his so-called minor career as a poet has surely not lagged behind in accomplishment and achievement, fame and fortune. Greaves was the winner of the Guyana Prize for Literature in 2002 – the Best First Book of Poetry for his inaugural collection Horizons (2002). Moreover, his poems were being anthologised for decades in various publications including Kyk-Over-Al and the prestigious international anthology A World of Poetry edited for the benefit of CXC by Mark McWatt and Hazel Simmons-McDonald.
Moreover, Greaves himself has pronounced upon his approach to these two artistic interests – that they are inter-related, hardly separate pursuits and are certainly not disparate. This attitude is supported by the practice throughout his career which has highlighted a pronounced intertextual relationship. From simple levels, when he was asked to illustrate books such as Martin Carter's Poems of Affinity he has avoided "illustration." The drawings never try to put in print an exact visual version of the text, but carries on a dialogue with it. This is evidenced by the latest exhibition 'Dialogue With Wilson Harris' in which each painting will have a life of its own, but is inspired by and goes into textual engagement with the ideas raised by the literature.
In Greaves' own words "an illustrative approach" was "the very thing I wanted to avoid" in reading Harris' novels and "reacting to the text." He explains "because symbolic imagery with surrealist overtones was a feature of my work, I could perhaps to some extent create imagery to parallel those of Harris. This evolved into a definite case of visual and verbal imagery engaged in dialogue.
The necessity to keep very close to the text was not therefore an issue." (Catalogue, Greave's Dialogue with Wilson Harris, 2014). This kind of dialogue had been evident long before in his drawings accompanying the poems of Carter, a poet most admired by Greaves. In fact, Greaves even engages this "dialogue" in the writing of his own verse, since his second collection of poetry, The Poems Man (2009), is a virtual tribute to Carter. It takes its title from a Carter poem in which a little girl calls out to the poet "look, the poems man." Just as how that poem underlines a link between the poet and the people, Greaves intimated in a lecture presented at Cara Lodge, the kinds of associations with Carter that might well have led to the way his poems in the collection are an intertextual dialogue with Carter.
Greaves is a painter, sculptor, poet, musician, academic, and folk theatrical performer. As a guitarist, he was once leader of a band whose name was a good joke, but seriously reflected Greaves' sense of satire, irony and even cynicism – qualities that come out in the poem 'Caribbean History,' particularly his attitude to politics and Caribbean politicians (see stanza 3). It was a group of amateurs who called the band Every Man for Himself. Given what musical harmony is supposed to be the humour is obvious, particularly when you consider the whole saying from which that name was taken – "every man for himself and the devil take the hindmost." Greaves' ironic approach is there in his poetry as in some of his art – see especially the exhibition 'There Is A Meeting Here Tonight' in which he expresses many views about politics and society through a series of paintings surrounding a meeting of dogs.
"There is a meeting here tonight" are the words of a song often rendered by religious spiritualists, practitioners of folk denominations of Christianity. These are grassroots types involving preachers and small groups who would gather on the street corner to preach, inviting the flock with the song "There is a meeting here tonight /Come one and all and gather round /There is a meeting here tonight." Another part of Greaves is his intuitive tendencies and preoccupations and what he takes from the folk. He was involved in a major joint exhibition in London with Jamaican revivalist Everard Brown, called 'The Elders' because of their engagements with intuitive art and revivalist religions (see Greaves' 'Wayside Preacher' inter alia). He therefore took the "meeting" from the revivalists to also refer to political meetings on street corners and renders them through the imagery of packs of dogs who customarily gather on the streets at nights in very sarcastic, ironic fashion.
That is the approach Greaves the poet takes in 'Caribbean History.' He invokes many well-known historical, biblical and literary figures from both Caribbean and world history and places them satirically in modern local Caribbean situations in this ironic approach to Caribbean history.
However, Greaves was equally capable of taking his music, guitar playing and interest in folk traditions seriously. In Barbados he was a member of a group with Ken Corsbie who organised and staged an annual theatrical production featuring storytelling with several performers and the annual Earthworks Awards. Greaves played the guitar in a band put together to accompany the chorus of singers that strung the performances together.
It is not farfetched to think that with the way Greaves pulls all these facets together in his approach to art and poetry, his work seems to get better year after year, exhibition after exhibition. 'Dialogue with Wilson Harris' is an emphatically powerful exhibition. It is not surprising that another poet from whom Greaves takes inspiration is John Donne, since Greaves' work betrays traces of a metaphysical quality.   It is evident in the first stanza of this poem 'Caribbean History' and in the way Greaves describes his lifelong acquaintance with the Guyanese landscape, in particular the interior and rainforests, very much like Mark McWatt. Importantly, also like Wilson Harris with whom Greaves finds so much kinship.
Another exhibition relevant to these themes is Greaves' 'Shadows Move Among Them' whose title is taken from Edgar Mittelholzer. Here again the painter dialogues with the novelist in the use of imagery. In this exhibition Greaves uses a motif of shadows, in which in several paintings you do not see the figures, the persons; there are shadows that fall across the canvasses in many symbols and suggestions of an examination of human society.
It is this brand of modernist, post-modernist, metaphysical and existentialist expression that recur in the works of this artist in both the visual arts and poetry. The poem reproduced here illustrates some of these post-modernist stylings and ways of scrutinising Caribbean society.
Around the Web