By Dacia Whaul with photos by Arian Browne
There was no one out in the streets when Sunday Stabroek visited Anna Catherina recently. The village is located on the West Coast Demerara, about eight-and-a-half miles from Vreed-en-Hoop, and according to most residents it is a quiet place and above all, harmonious. It is divided into two parts, the housing scheme and the squatting area, popularly known as 'Sea View.' The latter as its name might suggest, provides an avenue of entertainment for the farming community, with sandy space, a spot for a fireside meal or bush cook and plenty cool, salty breeze.
Most people in the village, the majority of whom are Indian, earn their living as sugar workers, farmers or fishermen.
The housing scheme residents have access to electricity and landline phones, and have a good road and drainage. The squatting area residents in contrast trek along a loam and mud-filled road, and few have electricity.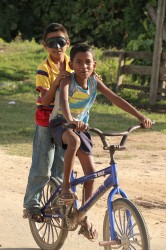 The community has a functioning nursery school, but the St Paul's Secondary school building is in a state of disrepair and has been relocated to the Den Amstel Community Centre ground. Anna Catherina does not have its own health centre, and according to Mavis Deonarine, a grocery shop owner, residents are treated either at the Den Amstel Health Centre or the Leonora Cottage Hospital.
The village tailor, who was shy and asked for his name not to be mentioned, declared, "Anna Catherina is a beautiful and very quiet place; the people here are very friendly and wonderful." He said he is 55-years-old and was born and raised in the village, and that most people in the community own or run their own business. "They try to do they fine, fine thing yuh know," he said. The businesses are mostly grocery shops which save villagers a long walk to the Leonora market.
The tailor recalled that the village he knew years ago was a bit different to Anna Catherina today: "this place started as a squatting area and in 2010, the government came and regularize it."  And after being asked about his business, "Well right now business rough," he replied; "Is only when school opening I get a lot of work, or when people have to make working clothes." This, however, he explained, is less of the norm than it used to be. While thanking the government for developing the village he asked that the community's call for a recreational ground and the rebuilding of the secondary school be highlighted.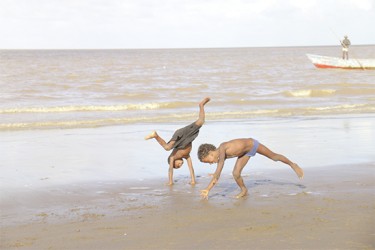 Albert, 44, who said he too was born and raised in Anna Catherina and is a sugar worker by occupation, joined the conversation. He said that though the village is beautiful and friendly, it could still do with some more development. "We got light and water, but we have no ground for the children to play on," he observed. As for the earlier years, he said, "Back in those days, life was hard for us," singling out the '80s as the roughest.
Moving off from the public road and heading into the heart of Anna Catherina, this newspaper encountered Rickey, the owner of Rickey's Mechanic Shop. Rickey was in the midst of repairing a minibus, when asked to describe his village. "Well it is a very nice and peaceful place," he responded; "what I like about this village is that everybody live as one and there is no big crime in here."  He also pointed out the synthetic track that is being constructed in Leonora, that is separated from Anna Catherina by a trench. Rickey said that though the village has no community centre ground, villagers still find entertainment: "Well especially on Sundays, on the sea walls you get football, cricket and all kind of games."
From the bridge that serves as a border between the housing scheme and the squatting area, the cool Atlantic Ocean breeze was blowing; the smell was a mixture of salt and manure, a sign of an industrious farming community.  Anil Rajcumar, a fisher and resident of Sea View, told this newspaper that the squatting area has a life of its own, although the whole of Anna Catherina lives as one. "Well, sometimes at the back here is easy and sometimes it rough," he said, with reference to Sea View residents, most of whom fish or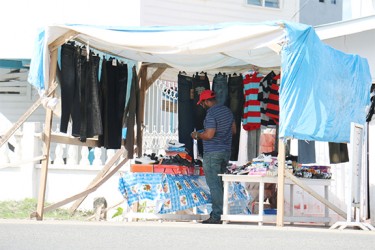 work on the Uitvlugt sugar estate.
Malfar Azeez told Sunday Stabroek that though Anna Catherina is as peaceful as all who live there maintain it is, it has had its share of horror. She was referring to the gruesome murder of Jennifer Persaud and her two sons, who were found dead in their home. She said that the now abandoned house greets all as they enter the squatting area and is the cause of much fear on the part of many who pass it on a dark evening. Some people thought twice, she said, before venturing past it alone.  Azeez described the house as once being a hive of activity: "She had a bar there ‒ if yuh use to see the place nice, nice."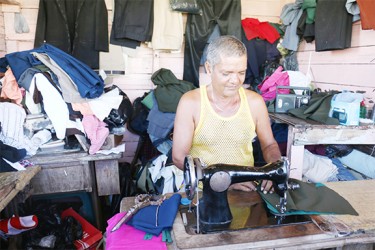 On Sundays Sea View on the northern side of the West Coast public road comes alive with scores of children playing football, cricket and 'chule,' which many Guyanese know as 'Saul Out.'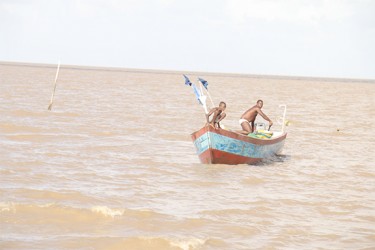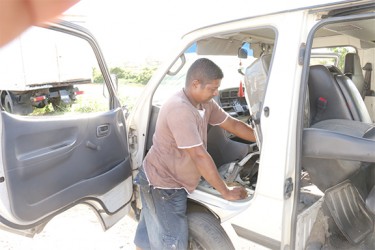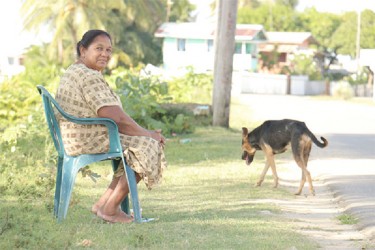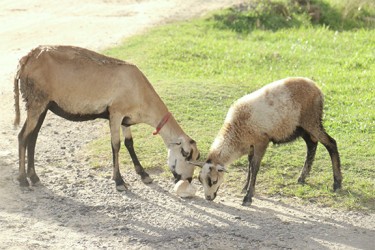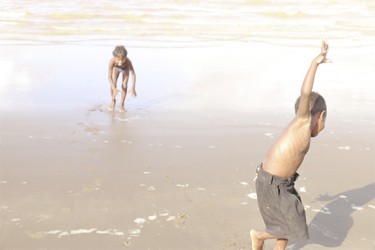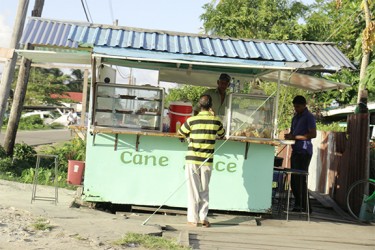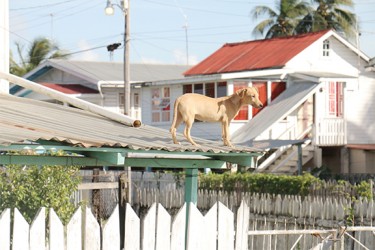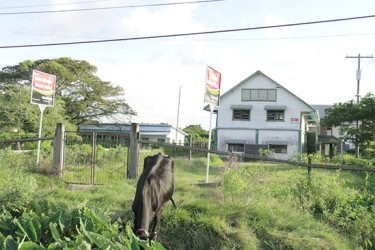 Most Read This Week