Story and photos by Desilon Daniels
and Samaria Deonauth
Sandwiched between Washington and Seafield/Number 42 Village, the small village of Rising Sun on the West Coast of Berbice is a community of close familial ties.
Almost everyone living in the small stretch that comprises the Rising Sun comes from at least one of five families: the Seecharans, the Hookumchands, the Rosses, the Tappins or the Wades. Though some persons married into the community, they are nevertheless wholly welcomed and soon fall into the groove of things.
Yvette Hookumchand, who moved to Rising Sun about 33 years ago from Golden Fleece when she married her husband,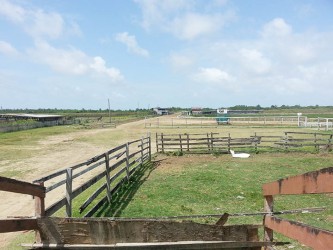 explained that almost everyone in the area is self-employed. Hookumchand owned a small shop with her husband, that was attached to their home.
"Rising Sun is mainly a farming and agriculture sort of place," she said.
The one other shop in the area belongs to Pohp Hookumchand. Forty-three year old Pohp explained that he had lived in the community for about 30 years and had his shop for 6 of those years. He told Sunday Stabroek that he had worked on the East Coast of Demerara but had ended up in Rising Sun after jobs became scarce.
Pohp's shop plays host to the village men, affording them an opportunity to hang out, have a cold drink, and play pool.
"This place ain't change much in 30 years," Pohp said; "It's just very quiet."
Roger Mohan might argue with Pohp's view. Roger, who was born in the community and spent his entire life there, said that the village began with a few homes and over the years has developed into a thriving enterprise.
Despite having no competition in terms of commerce in the area, both Pohp and Yvette still engage in the community's most popular economic activity: rice farming.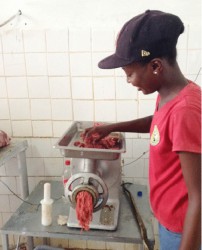 Yvette told the World that she had spent a lot of time in the Hookumchand rice fields, owned for generations by the family. Though she admitted that it had been quite a time since she'd last gone into the fields, her husband and her teenage son would regularly head in.
For those who perhaps are not too fond of the gruelling sun, the option of working at the Rising Sun Farms is available. The establishment is one of Guyana's best known suppliers of beef.
Dedeen Pluck had been drawn to the Rising Sun Farms at the age of 18 when she couldn't find a job in her own village. At the time, she said, dealing with the raw meat had been a difficult task. "At first I used to feel upset about the meat, but now I'm just used to it."
Now, six years later, Dedeen said the job has its good moments. "Sometimes it's challenging; other times it's fun," she said. Skilfully, Dedeen showed Sunday Stabroek how minced meat was made.
The Hookumchand family showed that they were indeed one of the main families in the community when, upon introductions at the meat farm, another member of the family was encountered. Brian Hookumchand related that he had been working at the business place for years and had the task of butchering the cattle.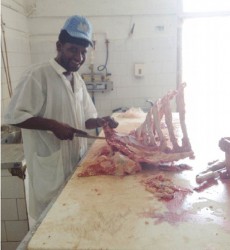 Several residents noted that the community was one of few recreational activities. Growing up in Rising Sun, Waygan Ross, 52, said the area had never had a playing field but that he and his friends had made do with playing in small areas. Though he now lives in Seafield with his wife and seven children, Waygan spends just as much time in his old village as he does in his new one.
Despite the few leisure activities, residents would never dare say that they were starved for entertainment, all thanks to their very own Rising Sun Turf Club. The club hosts a number of horse racing meets throughout the year. Just over a month ago, over $8.5M was up for grabs at one of the club's meets.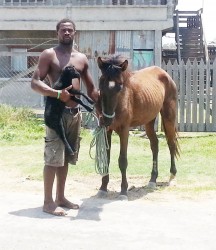 Waygan said that he had often gone to the turf club in his youth. Smiling, he reminisced on his days spent visiting the track whenever there had been a meet. The club, he said, had presented a great opportunity for meeting new people who would come from all over the country to witness the races and other attractions such as bull riding and cattle roping.
Waygan noted that since this was the only real social activity in the area, villagers and visitors alike would take the opportunity to enjoy themselves to the fullest. "If you didn't go to the races, you went to the after party," Waygan said.
Yvette revealed that she had also been a regular at the tracks and had participated in a number of races. The horses, Roseanna and Panda, had even won some of them. She recounted one experience at the track that she would never forget:
"One time we won a race and you know, when you excited and thing you jump up and you don't really think. Well, at the time I was pregnant with one of my sons; he came the very night!"
Ironically, that son, Mark, hated horses. "He can't even stand the sight of a horse," his younger brother Phillip said.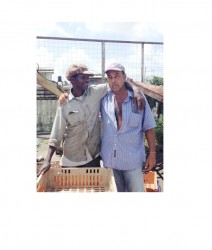 Harold White, another resident of the village, had worked at the track for 5 years and had once had the job of opening the horses' gates to begin the race. It had been an exciting task but Harold said that he could recall a number of instances where things had gone wrong. Sometimes, he said, all of the gates would not open at once or, in at least one case, horses had run into the gates and injured themselves.
He had eventually left the job and had taken up rice cultivation like so many of his fellow villagers, working closely along with the Hookumchand family.
The growing popularity of horse-racing has made the event somewhat difficult for residents.
"It used to be a poor man's sport," Yvette said. As the sport gained popularity, it began attracting rich investors, both local and international. Yvette noted that it became progressively harder to compete with horses that were specially bred for racing and she eventually quit the sport altogether, especially as her two elder children moved out and the animals became harder to maintain.
Her son Phillip keeps the tradition alive and loves horses, and Yvette said that he was was an adept sportsman on the whole.
However, Phillip is not the only talented villager of Rising Sun. Waygan disclosed that he had a great love of music and had even recorded a few songs. As he spoke about his talent, the man burst suddenly into an impromptu calypso:
"And today what a day it is/ when we meet up with two journalists/They come to ask about Rising Sun/ me and Roger here just having some fun!"
His spontaneous performance was just a taste of the other hidden talents of Rising Sun.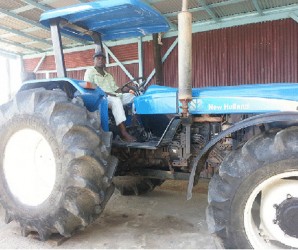 Like every place in the world, the village experiences its fair share of problems. Pohp said that Rising Sun suffers from a poor supply of water and electricity, while a number of persons reiterated that the youths of the community were a drastic change from the days of old.
Roger explained that children had been more respectful to their elder in the past. "Long time days is a different thing, I guess," Waygan said.
He continued, "People blame the government a lot for things but you can't blame the government for everything. Parents need to pay more attention to their children."
Though Waygan admitted that he and his best friend Roger had spent time as young boys tormenting an old man of the village, he emphasized that they had never been disrespectful to their elders. "We just trouble him and we used to run away and fall down and just laugh," Waygan said.
Waygan also noted that the village's resources were greatly underutilized. His view was that more should be done for the rice industry, and that a rice factory should be established to create jobs.
Despite the shortcomings, the villagers experience some perks; there is little to no crime in the area. "Bandits attacks are far and few between," Waygan said. "Any time you hear about any robbery, most times is somebody outside of the village come in and do it."
There is also no racial segregation. "It's a mixed community; everyone participates in events, everyone communicates. Remember everyone almost related so we have no racism here," Roger said.
Around the Web