Story and photos by Dacia Whaul
Originally a rice field, Belfield lies16 miles from the capital city between Nooten Zuil and Victoria on the East Coast Demerara.
"People started squatting here in 1999," said Carla Meusa, one of the first settlers in Belfield. "Ten of us come together here and start building," she explained, adding that it was much later that they were given transports for the lands they occupy.
During the early days of development Belfield consisted of six small, wooden shacks and their adjacent latrines, built on plots of land bordered by roughly erected fences and accessed by means of a big plank.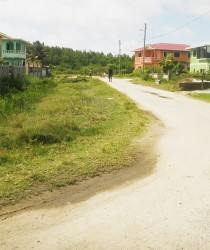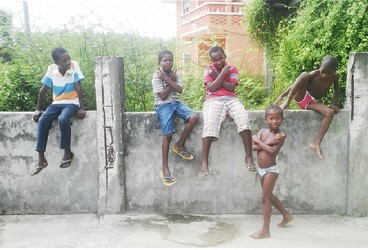 "There were no roads," Meusa recounted, "was mud all over." She said one night, before their stay in the area was legitimized, the police were trying to remove them, but they remained. She said one woman threw herself on the floor, faking a seizure in an attempt to divert the attention of the police, while others were running all over the place.
Although the small shacks have evolved into con-crete houses inclusive of indoor toilet facilities, and that tarred roads, electricity, potable water and telephone services are now available, residents said the feel of the community has remained the same. "We are a peaceful community," Meusa told Sunday Stabroek, adding, "We are loving and try to look out for each other." She explained that the norm for the village is that when a neighbour is travelling, they inform those around that they will not be home for a while, and request that they watch over their homes.
"Belfield is very quiet," Patrice Johnson agreed; "it comes alive in the afternoon." He said that then the multi-purpose ground is filled with children and young adults for a game of cricket or football hosted by Belfield's team, the Young Achievers. He further said that activities like these occupy the spare time of Belfield youths.
Achievers. He further said that activities like these occupy the spare time of Belfield youths.
Belfield residents also boast of their involvement in the Mangrove Restoration Project along the coast. The mangroves block the view of the Atlantic Ocean, but residents say they can live with that, "because the mangroves protect us from floods."
Villagers are optimistic about the development of the community, given that there is some construction going on, and by extension this means an increased population. To date the village, according to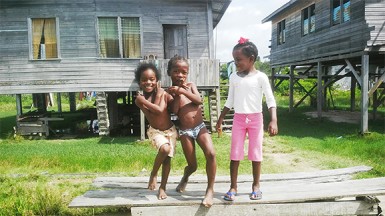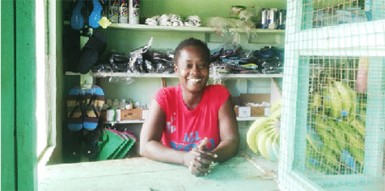 Meusa, has about 134 houses, a barbershop, a car wash and a Christian church. Nevertheless, there are some residents who complain about the slow pace of economic growth. "Business really slow in here," said shop owner Leslyn. She said that though people are moving into the community, sales have not reflected that influx. Julie, who has been living in the village for the past three years, agreed with Leslyn, but was of the view that "things will get better in time." The single mother of four said she walks and sell snacks like eggballs, channa and puri, just to mention a few.
With few or no job opportunities, villagers go to Georgetown to seek employment, although some have created small businesses in the form of grocery shops. Basic household items can be accessed at these shops, but the purchase of fresh fruit and vegetables or bulk shopping, may warrant a trip to the Golden Grove Market, which is the closest to the village, or the city.
Children attend the Victoria nursery school and either the Saint Andrew's, Golden Grove or Ann's Grove primary schools. The secondary schools available to Belfield students are President's College, Annandale or Golden Grove, and there are others.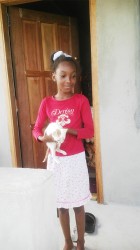 For healthcare residents can visit the Victoria Health Centre and in more serious cases the Georgetown Public Hospital. For police assistance they call the Cove and John Police Station.
The only complaints from residents relate to poor roads and a lack of street lights. The village, say many inhabitants, has little or no criminality.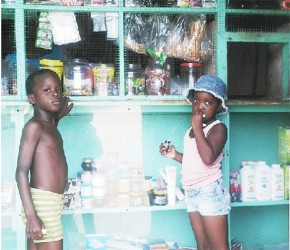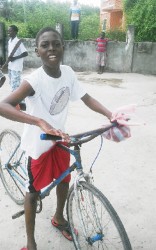 Comments

Former Attorney General Anil Nandlall says that the Attorney General's Chambers' retention of six attorneys to prosecute a number of high profile cases is unconstitutional and he is warning that the right to a fair trial will be compromised by a politically-tainted process.
Guyana's total public debt increased from $317.7 billion to $330.6 billion in 2016 but the total debt as a percentage of Gross Domestic Product (GDP) declined to 46.4% from 48.6% at the end of 2015 due to a nominal increase in the GDP.

Family, friends and well-wishers turned out in their numbers to say their final goodbyes to murdered school teacher Kescia Branche, who was laid to rest yesterday afternoon.

A recent Biodiversity Assessment Team (BAT) survey of the Kaieteur National Park (KNP) and the Upper Potaro area has led to the discovery of up to 31 new or potentially new species to science.

A Mon Repos, East Coast Demerara resident died on Thursday after he was attacked by a swarm of bees while returning home.