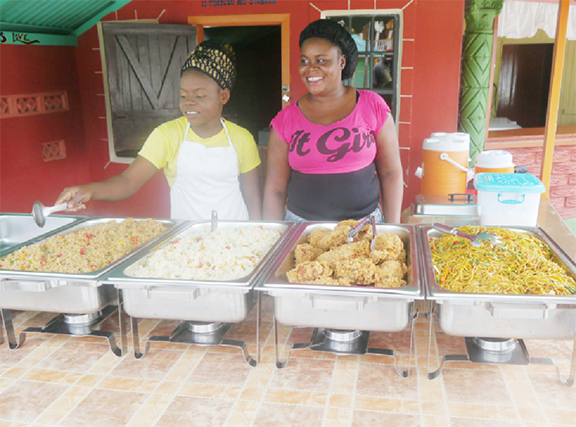 Most of the residents of the close-knit community of No 5 Village, West Coast Berbice are engaged in business from selling iguanas and water coconuts to running food stalls by the roadside. Residents also operate beer gardens, barber shops and salons while some work as nurses, teachers, soldiers and estate workers. The main form of income, however, is through rice and cash crop farming.
No 5 Village has a nursery and a primary school and a few churches. The friendly residents were happy that their village would be featured but a few were shy and preferred not to be in the papers.
Businessman Lealand Johnson showed the World Beyond Georgetown around the village and introduced us to other residents when we visited two days before the school vacation started.

Johnson who was born and grew up in the village, lived in a mud house. His single mother worked at the Guyana National Service (GNS). He too joined the GNS before spending four years with the Guyana Defence Force. He subsequently obtained the rank of Lance Corporal. The father of five eventually opened a beer garden.
We stopped in at the No 5 Primary School where teachers were getting set for their graduation ceremony. Some students and parents had already arrived.
The nursery school located behind the primary school had already dismissed for the day, and some students were waiting to be picked up. They were photographed along with Teacher, Dian Johnson.
 Peaceful village
Lealand Johnson, who is also the vice-chairman for the Alliance For Change in Region Five, boasted that, "No 5 is one of the most peaceful villages in West Coast Berbice. The police don't have work to do here." The youths are not involved in negative activities but would focus on sport activities such as cricket and football.

The village has seen a lot of development, especially through self-help work and with assistance from overseas-based residents who provided floodlights for the ground. These are used during football matches in the evening.
Government has also built a bridge on the back street behind the ground but he said the canal was not "paaled off" and this is resulting in erosion.
Johnson showed this newspaper some "dams" that were overgrown with grass. He said government should reconstruct them with asphalt because they served as the main access for some residents. He was happy that government had recently fixed some of the streets, but said the street behind the playground was left incomplete. Some streets that had been repaired previously, he said, were filled with potholes and almost all of the asphalt had washed away because of sloppy work by the contractors.

Village Day
Residents were looking forward to the huge Village Day celebration on Saturday, July 26. During our visit, some men were putting up a banner at the entrance of the playground for the big day and Johnson stopped to
assist them.
The village comes alive with this annual event that has been held for the past six years. Johnson, who is part of the planning committee, said the celebration would "normally be on the road" but this year it would be at the playfield as the police have not given permission for the use of the road.
Residents would "clean and dress up around the village and at the ball-field entrance with flags." The event would start off in the morning with an athletic race from Rosignol and end at the cricket ground where various delicacies would be on sale and the music would be on full blast. The activities would continue with football, cricket, dominoes and other

competitions while special prizes would be up for grabs.
According to Johnson, over 50 overseas-based residents flew in last year to be part of the event that is held close to Emancipation Day.
Residents plan to use the proceeds to either build a bus shed or complete the fencing of the ground. They had received funding from government to fence the ground but a section still needs to be completed while pavilions also need to be constructed.
Dominoes
A group of men sat in front of a shop playing a game of dominoes as others looked on, perhaps waiting for their turn to play. The shop is also popular with many customers during football or cricket matches who root for their favourite team or player. Loud noise would erupt at intervals as they do so.

Along the roadside, Quez McPherson operates a water coconut business from his stall. He sat patiently on the other side with two friends waiting on customers. He came across when a car stopped and the driver came out to make a purchase. Another customer came and asked for a "cool-down."
There was another coconut stand on the other side of the road while nearby, a resident had displayed his iguanas for sale.
The village is popular for selling delicious creole dishes and at lunchtime, the aroma from the food stalls lining the roadway filled the air.

Eighteen-year-old Tee-J Craig, a relative of Johnson runs a snackette in front of McPherson's home where he operates his beer garden. His daughter, Ovitta was helping her out. Acquiring her talents from her parents, Tee-J started cooking after completing high school at age 16 and has gotten lots of compliments. She plans to enhance her skills at the Carnegie School of Home Economics this September when she starts a catering course.
At another snackette, Carla's Tasty Side, located nearby, two customers passing in a car stopped to buy lunch.
Obliquely opposite, Rushanna Liverpool operates a snackette selling breakfast from 6 am. She closes her business at 1 pm and if she still has food remaining, which is hardly the case, she shares it out. Rushanna starts her preparations at 4.30 am and also finds time to take care of her two children – Elijah, two and Ezra, six months. She acquired her cooking skills from Home Economics classes at the Rosignol Secondary School and is making good use of what she learnt. Her desire, she said, was never to work with anyone.
She recalled starting small by baking bread and pastry, which her husband, Quason, rode around and sold in several villages. Now a vegetable huckster, Quason uses his car to

transport his produce to the Stabroek Market to sell.
Rushanna's friend, Shabana Layne was visiting her at the time. When she is not busy going house to house to ply

her trade as a clothes vendor, Shabana would give Rushana a hand. Her husband also operates a stall on the opposite side of the road.
Comments

Dominica was devastated by Hurricane Maria (Reuters photo) Dominica's police chief says the death toll following the passage of Hurricane Maria has now risen to 27.

In keeping with a proposal made in 2015, the United Nations Office on Drugs and Crime (UNODC) has appointed a UN prosecutor to deal with corruption matters in Guyana but the details of his work have not been made public.

A Smithfield, New Amsterdam man was yesterday charged with the murder of his wife, who he is accused of fatally beating.
State Minister Joseph Harmon has said that the special purpose unit set up to spearhead the divestment and privatisation of certain GuySuCo assets will build on the preliminary work undertaken by consultant Wesley Kirton to identify potential investors, and conduct its operations transparently.

A Corriverton, Berbice man was yesterday sentenced to 20 years in jail after he recently pleaded guilty to a manslaughter charge in the High Court at Berbice.