The Great Horned Owl (Bubo virginianus) is the most widely distributed owl in the Americas; it ranges from Northern Canada to South America. This owl has a distinctive, haunting call of "ho-ho-hoo hoo hoo" and it's 'horns' are really tufts of feathers. The Great Horned Owl can be heard (and seen if you have keen eyes) in the Botanical Gardens in Georgetown as well as in and around forest islands in the Rupununi Savannahs.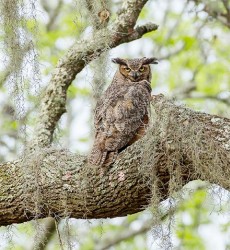 Comments

A juvenile green Iguana perched above a muddy creek. (Photo by Andrew Snyder) Photographer, Andrew Snyder, caught this young Iguana sunning on the bank of the Burro Burro River.

The Giant River Otter or 'water dog' is the most endangered neotropical animal.

In the afternoon, when fruits are in season, a high pitched,

This bold little flycatcher is the White Headed Marsh Tyrant. As its name suggests,

Look carefully. Do you see the large spider in the photo? It is the Venezuelan Suntiger [Psalmopoeus irminia).