Her name is well known in entertainment circles. When someone says the name Leslyn Fraser, mostly what comes to mind are her ferocious moves, the slender legs, daring eyes; all that make her a wonder on stage. Dancing from a very tender age, she also took up acting while still very young and has moved adroitly from one stage to the next, gathering myriad other skills along the way.
Her 2013 National Drama Festival Award for Best Supporting Actress in the Junior Category is viable proof that she is brilliant at theatre. Then there are her outstanding performances in Paloma Mohamed's Anybody see Brenda; The Darker Side, written and directed by Tivia Collins and Planned to Perfection, written by Mark Luke-Edwards and directed by Ayana Waddle. It was this play for which she won her most recent accolade.
But from all accounts it was a miracle that the play pulled through at the actual competition. According to Leslyn, it was vastly under-rehearsed like so many other productions at this past season of the National Drama Festival. "We [the cast] never had a full run in this play because all the cast members were never present at the same time. There was work, clashing of schedules, and of course some were involved in other productions," she highlighted.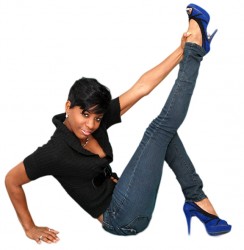 Surprisingly though the play did very well on the actual night of the competition. Leslyn described it as a success. "I guess it's because when I put my mind to something, and when it comes to show time I just go on the stage, feel that support from the audience and give it my all," she said.
Familiarity with the stage is natural to Leslyn, after all she has been on stage since the tender age of three. Her career started over three decades ago as a dancer. She would dance at parties, school functions, for her family and friends – Leslyn was always known as a dancer. Today her face is plastered on posters and promotional videos for Classique Dance Company. She is one of the most experienced dancers at what she described as the Number 1 Dance Company in Guyana.
She still dances, but not as much since giving the birth of her now one-year-old son, Ayuk, who graced us with his presence during his mom's interview with The Scene.
The little bundle of energy goes everywhere with his mom and Leslyn is more than happy taking care of him. She noted that she too needs to be energetic to keep up with him.
Leslyn is currently rehearsing for a special production of the Link Show to celebrate its 30th season.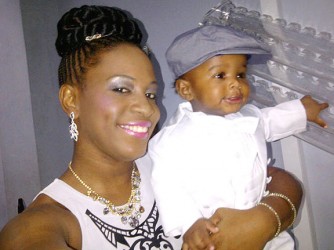 She notes that she has been typecast as a diva, but that she has a particular interest in "challenging roles" like the award winning role she played in Planned to Perfection. She was cast as a secretary who was a lesbian and also the person behind the mischief, murder and lies that were soon revealed. The character's timid personality meant that she was not suspected until the ravaging female persona was exposed, and it became clear that she was the culprit and notably the antagonist of the play.
"I played it so well that it gained me a trophy, well deserved I would say," Leslyn noted.
This is not Leslyn's first accolade. She won the 2013 Theatre Guild Award for Best Actress in the One Act Category for her performance in the play Cockadoo, which was directed by Tivia Collins. A year prior she went home with the Theatre Guild Awards' Best Actress Award for her performance in Ms Edwards. She was the main character in the Kwasi Edmondson directed production.
Looking back to the dawn of her drama career, she recalled that her first taste of it was when she was ten years old. Her mom had always supported her in dancing but she was very dramatic as a child, so when her mother got word that Theatre legend Harold Bascom was hosting a drama workshop during the August holiday season, she signed up 10-year-old Leslyn.
She wanted all of her daughter's drama to be put to good use. The young Leslyn excelled and was soon approached by Bascom for his upcoming production Old Firewood.
"It was so easy for me," Leslyn said. "To this day when people say 'You're a natural' I can relate to that because I know that comfortable feeling of being on stage. I can relate to an audience and I bring out so much on stage because I've been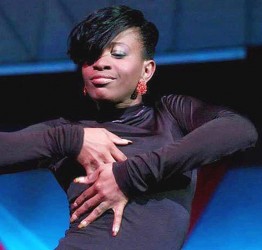 there for what seems like forever."
Asked what the local entertainment industry means to her as a dramatist and a dancer she said: "You have to love it, and really love it.
The arts are not profitable in Guyana, it does not pay and you cannot go into it for the money or fame. It's not about that. If you don't love it then you would never put your 100% into your work and you would never succeed, you will suffer. You have to love it in this country."
And loving the arts is what Leslyn does best; well aside from being a mother. She is a well-known TV personality, host of the Lotto draw and "In Style", a televised fashion information show sponsored by Clairan's Boutique on HJTV. She is also part of the producing panel of the popular entertainment news show E092 on HJTV.
According to Leslyn, she pursues this career choice because of her strong love for it. "It's like my therapy. Not in the sense that I am a crazy person but in the sense that it keeps me sane. Sometimes in life we need things to keep us grounded and that does that for me," she said.
"The stage is my fort. When I get out there all my troubles and disasters of the world, my sadness and misfortunes are all gone at that time.
I come alive and when I'm on that stage I let it all go for that time. I'm typecast because I'm a diva and what you see is what you get not just in drama but in dance as a well. All those sexy dances and characters engulf me."
She expressed that there have been times when she missed rehearsing – no productions meant no rehearsals. With the one thing that kept her sane not there, she would feel grief in a way. But now that is a thing in the past with her son and of course she has a lot on her plate.
She spoke passionately about the need to build theatre in Guyana. "We need the young generation to come together and build this industry of arts. This country has a lot of talent; we have seen this at the National Drama Festival," she noted.
Beyoncé's "I was here" is an inspirational song that motivates Leslyn to the point where she wants to be legendary in the sense that her son can grow up one day and think of his mom, have people tell great stories about her. She wants upcoming dramatists and dancers to aspire to get to her level. "I want them to say 'I want to be like Leslyn'; I want to be remembered forever," she said.
Leslyn is soon to be happily married. As for being a mom, she considers it to be the highlight of her life. "Twenty-four hours of labour and this is what came out," she said while hugging her toddler son, "this wonderful, beautiful and energetic child with his own personality already.
"This feature, my awards and all I have accomplished in life I dedicate to my son, Ayuk Jeremiah Lobert."
Comments

GEMS Theatre Productions presents a new half an hour sitcom "Days Like Dese," a family-oriented comedy that surrounds the Rupauls, a middle-class Guyanese family.

Just three weeks short of the staging of the Miss Guyana Renaissance pageant, twelve ladies are kept busy perfecting dance routines, walk and speeches.

Twenty-year-old Keisha Brazh under the African name 'Serwah Mawusia,' is representing Ghana.

Put to task at the age of just ten to help to create the family's Christmas cake propelled Rabina Shivraj into a world of baking and decoration and today she has learnt the art of hooking her customers, first with her creativity and secondly with the taste of her creations.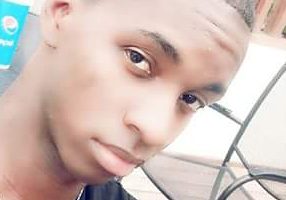 By Joanna Dhanraj With August fast approaching, the contestants of the Mr and Miss Guyana African Roots 2017 pageant are busy perfecting their skills for their big nights.