The finalists for the 2014 Billboard Music Awards were announced yesterday with Imagine Dragons and Lorde leading all artists followed by Justin Timberlake, Katy Perry and Macklemore & Ryan Lewis. The awards will be broadcast live from the MGM Grand Garden Arena in Las Vegas on Sunday, May 18, on ABC from 8 pm.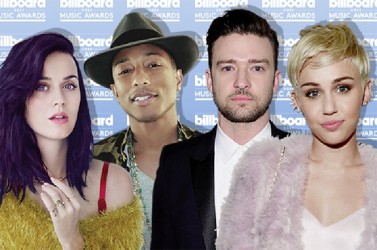 Jason Derulo, who will perform at the ceremony, broke the news yesterday on ABC's "Good Morning America."
Imagine Dragons and Lorde were each named in 12 of the 40 award categories while Timberlake, Perry and Macklemore & Ryan Lewis followed with 11, 10 and eight categories, respectively.
Imagine Dragons are vying for their first Billboard Music Award this year. The quartet burned up the charts in 2013 with the album 'Night Visions' (which is also a finalist for Top Rock Album) and its many hit singles, including "Radioactive," which broke the record for the most weeks ever on the Billboard Hot 100 chart.
Lorde also broke through in 2013 with her inescapable No 1 Billboard Hot 100 single "Royals" and debut album 'Pure Heroine.' The two top finalists will go head-to-head in nine categories, including Top Hot 100 Artist, Top Digital Songs Artist, Top Radio Songs Artist, Top Rock Artist, Top Rock Album, Top Hot 100 Song, Top Digital Song, Top Streaming Song (Audio), and Top Rock Song.
Timberlake could capture his first Billboard Music Award this year as a solo artist. Included in his 11 categories, are Top Artist and Top Billboard 200 Album. With his group 'N Sync, Timberlake earned five Billboard Music Awards, including the 2000 trophy for Album of the Year ('No Strings Attached').
Leading the song race with five title categories each are Lorde and Robin Thicke, TI and Pharrell Williams with their respective Billboard Hot 100 No 1s "Royals" and "Blurred Lines." Imagine Dragons and Perry both come in second with four finalist notches for "Radioactive" and "Roar," respectively.
Tying with two title categories each are Daft Punk and Pharrell's "Get Lucky," Macklemore & Ryan Lewis featuring Ray Dalton's "Can't Hold Us" and the duo's hit with Wanz's "Thrift Shop," in addition to Miley Cyrus' "Wrecking Ball" and Avicii's "Wake Me Up."
First time Billboard Music Award finalists include: Lorde (12 categories), Avicii (4 categories), Capital Cities (3 categories), Zedd (3 categories) and Sidewalk Prophets (1 category).
Rihanna, who is a finalist in five categories this year, has been a finalist at the Billboard Music Awards 49 times.
Timberlake has the most entries as a finalist for albums with three, including two entries for Top R&B Album with 'The 20/20 Experience' and 'The 20/20 Experience (2 of 2)'.
Luke Bryan leads all country acts with seven entries in six categories, including an appearance as a finalist in the overall Top Male Artist grouping.
Around the Web