Photos by Obrey James
A spicy performer with a powerful voice, Jackie Hanover, who now goes by the name of her alter ego 'Jackie Jaxx', has transformed herself from a contestant at the Jingle and Song Competition to one of Guyana's most promising and sought after artistes.
In an interview with The Scene, Jackie expressed that she always had an interest in singing. "I've always wanted to become a singer for as long as I can remember. As child, I would annoy my cousins regularly by singing everything everywhere. I sang more than I spoke. Sometimes I'd stand with my hairbrush at the top of the stairs and imagine I was singing to an audience of thousands below. I told everyone I'd be a singer someday but many threw it aside as a far-fetched idea… totally understandable," she said.
And even though some cast the idea aside or saw it as a dream for her more than an ambition, Jackie grew up wanting to hold on to the microphone more than ever before, describing herself as her biggest motivator.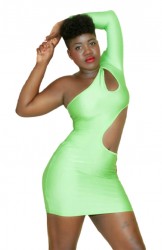 "I was always my biggest supporter. Growing up mainly with my mother, she knew of my aspirations, but I understand that every parent wants nothing short of best for their child so she steered me to more 'definite' avenues. However, I was and still am very stubborn. Of all the dreams I have, the urge to become an international recording artiste is the biggest," she continued.
As a child she looked up to many people who strove to elevate themselves; she identified with them. "People who grew up in the countryside just like me and eventually left to pursue their dreams made it possible for me to do so," she surmised.
When asked who exactly she is referring to she said no one in particular, but anyone who was not born with opportunity but climbed the ladder, endured the journey and made it big.
Jackie will be celebrating her twenty-fourth birthday on April 28. She was born in Beterverwagting, East Coast Demerara but she grew up in West Demerara.
Having a "very big family" constitutes her having lots of cousins, aunts and uncles in addition to brothers and sisters she grew up with.
Her family moved a bit, but mainly in Region Three which give Jackie a scope of the countryside. "I always tell people to never ask me for directions in Georgetown, but I can find any place in Region Three with my eyes closed," the country girl at heart said.
Her grandparents, uncles and aunts lived in villages such as Bagotville, Pouderoyen, Wales and Crane so she feels as though those villages are also her home since she spent a lot of time with her old folks. "Region Three is beautiful," she expressed, "I was fortunate enough to experience all the thrills of country life."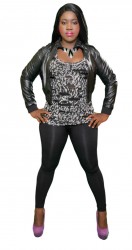 Jackie described herself as a tomboy growing up. She would raid trees in the village during mango season with the boys. After doing their morning chores they would head out to 'feel for fish' and would end up in heated swimming competitions. She recalled memories of sitting on the stairs with her cousins, aunts and uncles under a full moon while the older ones told 'jumbie' stories. Jackie and her siblings would participate in the emancipation celebrations each year at the Bagotville Community Centre when her family was in charge of the proceedings. She really had a great childhood.
She attended school in Georgetown however, first St Andrews Primary in Stabroek then St Rose's High.
In 2011, Jackie dropped out of the University of Guyana. "I felt like I was trying to meet everyone's expectation. I believe everything we need to learn is right around us. There are some things that require formal education, but it all depends on the individual," she said.
Now, she has determined that whatever she studies in the future will coincide with her dream. "I aim to be at the top. I see Grammys, red carpets and sold-out venues in my future."
She promises to release singles consistently this and every year as well as accompanying music videos. She is hoping to be signed to a major recording label soon so that she can further advance her career in music. "In the future I'll be headlining sold-out concerts, travelling all across the world and performing along-side other international stars. I visualize it daily."
Jingle and Song Competition
Many people do not know but the 2011 competition marked the third year she had auditioned for the GT&T Jingle and Song competition. She had previously auditioned at age 16 in 2006 and age 18 in 2008; and was unsuccessful at reaching the finals both times. She gave up after the second try, but then a few friends eventually convinced her to give it another shot.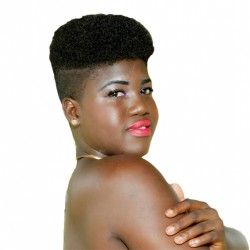 The third time really was a charm. She made it to the semi-final round and was very happy at how far she had gone. "I walked away with a wealth of knowledge, experience and above all, exposure. It was never my main intention to win. I wanted the exposure so that I could finally have a larger support base and I immediately capitalized on the opportunity by releasing my first two singles," she said.
"I have a huge fan-base and to this day people come up to me on the road and ask if I'm the girl from the jingle," a proud Jackie expressed.
But even after the competition and launching her career, there was many a day she thought about giving up. But these thoughts were soon crushed because of her belief that singing and performing are just meant for her.
"I don't think I can control this dream. It controls me. I can never stop. The passion I have for singing is overwhelming. I have great friends and relatives who keep me motivated daily but I also pray a lot. I'll never give up," she said.
She draws her inspiration mostly from other singers. She has always been a huge Beyoncé fan, "I love her work ethic, her resilience and she's also a dynamic performer," she said. "When I examine the journeys of many of these famous singers, I'm motivated to push harder." Her genres of choice are Reggae, Dancehall and Soca.
Jackie Jaxx
Jackie Jaxx is the bold, fearless, strong, dynamic performer she always wanted to be. "When I hit the stage, I immediately take on this persona. I have no stage-fright or fear of crowds. I just try to entertain as best as possible," she said.
She noted ta her stage personality does not differ much from her regular self, but she is not as sociable as she may seem. "I have a very small circle of friends and I'm not big on crowds. Even if I'm at a public place or event, I'd rather find a corner to hang with my friends and enjoy the music," she revealed. In the past she has enjoyed performing at the 2010 United for Haiti concert, Hits and Jams' 2011 Fandemonium Show, Feminition Concert in 2011, Classique's 'Spotlight 2013', the Jingle and Song competition and every Soca Monarch show. "I love all my songs," she said, "they each have a different mood and personality."
Her favourite hits are "Come Back", "Slow Jam" and "Nakupenda". She noted that people love those three most of all.
She is very proud to have written "Nakupenda". The song is a groovy, afro-centric track which was produced by local artiste and producer, Osley 'Spida' Hopkinson. Many people including her mother have asked Jackie how she came up with the concept and the idea to do a chorus in Swahili. "My response is usually, 'I don't know. It just came to me.' I heard the track and the idea to do the chorus or the entire song in another language just popped into my head."
So she just did some research and sharpened her song. "I knew the language, but I learned to pronounce the words correctly and when I perfected that, I wrote the rest of the song. It's a beautiful language and I am very happy with the song's success."
She believes in using the power and far reaches of the internet to promote her music. "I practically live on Facebook and I'm very familiar with most of the other popular social sites." She has a blog and two Facebook pages with a collective total of 9,000 subscribers and counting. She also has two YouTube accounts which she uses to update her music. Added to her list of social media is Soundcloud which she uses to publish her music and Twitter which is used to share links to her music, her experiences and her thoughts. Some notable 'Followers' on Twitter are Konshens, Delomar [RDX], top local and foreign DJS and prestigious promotional teams from Jamaica, Trinidad, Barbados, NY and the UK. "I use every possible outlet when promoting a song. Nowadays, everyone is online so it's easy to get the music heard internationally," she said.
Jackie currently has very little time for any activity besides the gym, but she does go out with friends. She spends most of her time at the recording studios, performing or writing music. She loves travelling, seeing new things and experiencing new cultures so when she can, she does.
"I always tell people that music is a woman and a very jealous one. She demands all of your time and attention or you'll receive little or no rewards," she said.
She had quit her day-job a while back to chase her dream and expressed that she does not regret any second of that decision. "I'm very happy. There are challenges I face on a daily basis. However, I believe that nothing good comes easy. I'm always writing, at the recording studio or performing somewhere."
She has no current family plans but does hope to find a very nice guy and start a family one day, but not right now she said. It's all about the music at this point.
Around the Web