Sheron Cadogan-Taylor's Shattered Dreamz opens next weekend at the National Cultural Centre and the playwright is over the moon as the days draw nearer to the production of her first full-length play.
In comments to The Scene, the award winning dramatist expressed her satisfaction with rehearsals and the cast. "I anticipate a very successful presentation judging from what I have seen. The actors are all rearing and ready to deliver outstanding performances," she said.
She singled out two particular actors, Renne Chester who is for the first time venturing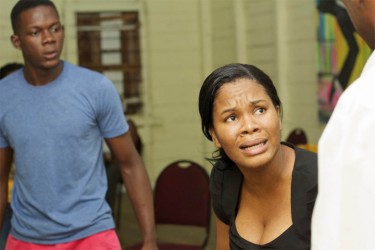 to the drama stage after making a musical career for himself since his days at the 2009 Jingle and Song Competition and HJ Boom FM's Jump Start co-host Nuriyyih Gerrard who is no stranger to the theatrical arts.
"I am especially impressed with lead actress Nuriyyih Gerrard," the writer said, "who despite having to cope with so much academically and secularly, has been and continues to be a joy to watch during rehearsals."
Sheron acknowledges however that this could not have been possible without strong support from her fellow actors.
According to a press release sent earlier, the play Shattered Dreamz depicts the life of a young aspiring lawyer (Sean Thompson) who was led astray by someone he trusted (Johann David) much to the disappointment and of his family. The revelation totally crushes his mother (Nuriyyih Gerrard), but it was because of her naivety that her son was able to lead a double life. Even when his father (Renne Chester) noticed changes in his son's behaviour and became very vocal about it, she refused to believe that her baby boy could be involved in anything that was bad.
According to the playwright the play highlights how very easy it is for parents to become wrapped up in loving and spoiling their children that they become oblivious to signals that their child/children might be heading down a wrong path, thus becoming an enabler.  This spells bitter consequences, not only for the child/children, but for the parents also, who would have had high hopes and dreams for such child/children.
The play underscores the need for parents to be united in their approach to discipline because it is often more effective, as opposed to a division in handling matters which is often noticed and pounced upon by children who are inclined to be rebellious.
Shattered Dreamz is being directed by award winning dramatist, playwright and director, Mariatha Causeway aka Jennifer Thomas. It will be staged at the National Cultural Centre on April 19 and 20, 2014.
Other members of the cast include: Mark Luke-Edwards, Sean Thompson, Kimberly Fernandes, Jennifer Langevine, Max Massiah, Johann David, Leon Cummings, Nelon Benjamin, Gregory Eastman, Abigail Brower and Clement Stanford. Tickets costs $1500 at the Box Office.
Around the Web