Shamain Patrice Greaves, stage name ShaMain, grew up surrounded by music. A resident of Maryland, USA by way of Florida and Georgetown, Guyana, ShaMain's imminent release, 'The Evolution of Me', an extended play (EP) scheduled to drop this Fall, has songs like "Beautiful", described on her website as "a smooth anthem ripe with building hooks, sultry vocals and the type of pulsating guitar medley that will have fans hypnotized from the gate." Then there is "Lover (would you be mine)," said to be a "sexy throwback to the hard electro dance groove of the 80s pop textures", and "Gimme," written by ShaMain and produced by heavy hitter Tone P, which "taps into a body moving Latin/Jazz groove", while "Cry Mi A River", the website says, "gives [a] taste of Caribbean flavour."
In 2012 she launched her first music project, 'My Diary'. ShaMain feels that was the beginning of her music career and has set the precedence for her to grow from. "Truly it was the start of my musical movement, it was my introduction into the music business," she said.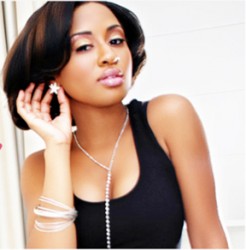 ShaMain was nominated a few months ago for the Best R&B Artist Award in the Washington DC/Maryland/Virginia area by her music group. Although she did not win she feels honoured to have been nominated.
Some of her most memorable performances to date were at the Miss Caribbean Metro USA Pageant (2013), Bell Multicultural United Health Day with radio station, 93.9 WKYS; the 17th Annual Port Town's Day celebrations, Maryland National Capital Park Police Community Day, Cricket Wireless & Children's Hospital Blood Drive for Davon Jones, the Newseum, the National Air and Space Museum, the Museum for Women in the arts, Air Force Gala at the Gaylord and the National Cherry Blossom Festival just to name a few.
She wishes to expand her musical network to Guyana, since she believes that as a native of the Land of Many Waters, "it is my duty to merge it with my music and life."
ShaMain's family migrated to the US when she was just two years old. She does not remember much of Guyana since she left as a toddler but she recalls glimpses of her life in Guyana, she also has many pictures to reminisce on her homeland.
She recalls music was always played in the house as she grew up; all types of music.
This was likely because her father had been the lead singer of the Frontline Band back in the day. With the influence of music around her, ShaMain started playing the violin at age five and continued all the way up to her senior year in high school.
"I remember watching concerts as a child and I would always dance and sing along. I envisioned myself on the stage and doing everything I saw those artists do. I would always sing around the house and put on a show in front of my mirror. I always knew that I wanted to do music, but after I graduated high school, that was when I really decided that I would push forward with a singing career," she said in an online interview.
And so she did, from little events to concerts and then signing on to Bridge Star Music Group, ShaMain went out to make her childhood fantasies real. Her preferred genre of music is Rhythm and Beats (R&B) with the occasional soul. "I've always loved powerful singers" she said, "I want to be the type of singer that will make your skin crawl and change your whole mood through my voice and song, even if you've never been through what I'm singing about. I want to make my audience feel what I feel when I perform."
It is her music loving family who motivates this 21-year-old songstress to go the distance. ShaMain wants to create a better, more stable situation for the people she loves; it just so happens that she gets to do so through music, something that she is passionate about.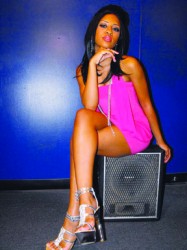 Inspiration for her music she says comes from people around her and the situations she goes through. "Whatever it is that I write about, I like to feel connected to the piece because it makes me feel like I can connect with whoever is on the listening end."
She has always admired Whitney Houston as a singer. "I feel as though she had one of the most powerful voices in the industry," she said. She also looks up to Beyoncé, noting that she is believes the singer is a prime example of an excellent artiste.
Whenever she is not working on music ShaMain is hanging out with friends or just having a good time socialising. She loves watching movies and while she does work as a make-up artist on the side, she is a full-time musical artiste.
"Whenever I am off the stage I am working on my music career in some way," she said. ShaMain has been performing all this month, with her last two appearances for April scheduled for tomorrow in Washington DC.
You can visit www.Shamainmusic.com to follow her journey to musical stardom.
Around the Web