By Dacia Whaul
A gifted guitarist, lyricist and heavyweight vocalist Tiffany Vasquez recently launched her debut album 'Gifted' at the National Cultural Centre.
The humble but truly accomplished musician said she never intended to share her music with the world, owing to her inhibition and ability to hold back. It was not until one of her mentors Pastor Denise Harris got her to play some of her songs that the idea of recording came into play.
Some of the country's most influential artistes congregated to celebrate with Tiffany: Shawn English, powerhouse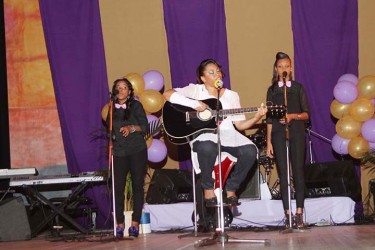 vocalist Renee Winter, poet Yaphet Jackman, Ronell Gonsalves and rapper Trevor Smith performed at the album launch. The Glorifiers Dance Group also entertained the audience.
"It was just me and my guitar," Tiffany said as she explained the reason for the title of her album. The track "Plain and Simple", she said, would be her favourite track. "[It] inspires youths who may see themselves as less than desirable to aspire for more with Jesus," she opined, adding that youths struggling to match up to their more successful peers can still become something.
"Just because I'm plain and simple,
Doesn't mean I am not special,
I am chosen by the Most High God…
Yes I am plain and simple,
But that's just the way he wanted me to be
Can't you see…"
Tiffany sings in "Plain and Simple".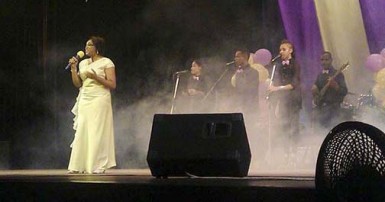 The contemporary gospel album includes tracks such as "Gifted", "Vessel", "Chip off the ole Block", "Heaven" and "Wrap Me" just to name a few.
"Tiffany is a girl who went through struggles," the singer told this publication, "so I know what I am singing about." She reasoned the album is unique because all the songs are based on life experiences.
Born on September 16, this vibrant young woman graduated from Christ Church Secondary and continued her studies at the University of Guyana (UG), where she gained a degree in Communications. She also had the opportunity to take part in the Pepperpot project, a collaboration between the University of Ohio and UG. During the documentary phase she wrote a documentary called Amerindian that copped first place at the end of the project. Her first short film Backyard won third place in the African Film Festival a few years ago. That film was produced while she was being trained a filmmaker through the Ohio University and UG collaboration in training filmmakers.
But of all her accomplishments, Tiffany is proudest of the day she accepted Jesus into her heart. She said she was 14 years old and wanted to end her life. It was in the midst of a church worship that she gained the strength to overcome what she refers to as her madness. Since then, music became a part of her life, "Music saved me," she exclaimed. She said from then on, she chronicled her struggles in the form of songs.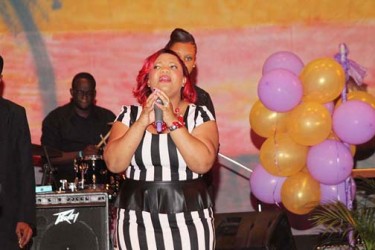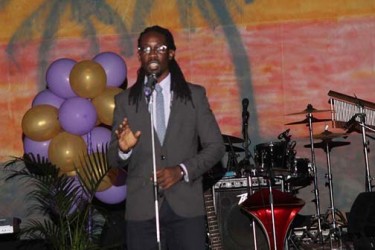 Now the girl who grew up in church and hid in the shadows, is stepping out with her positive influence hoping to inspire those who deem themselves lost causes. Tiffany said she is planning on recording her second album in 2016.
Around the Web