Rebecca's Story is a 12-minute film which sprouted from the Witness Project's Film Workshop. The Witness Project is a community youth initiative founded by Margaret Clemons Foundation in 2011, with a mission to use the arts to change the culture of domestic violence in Guyana.
With absolutely no prior experience in filmmaking, the Witness Project youths wrote, directed, acted in, and shot the short film Rebecca's Story under the teaching guidance of filmmakers Morgan Riles and Ginger Theisen. The play was based on the story Alone with Tears by Verney Henry.
The film is described as a nuanced testament to the lives of the project's members and their commitment to raise awareness about endemic cultural violence against women and children in Guyana.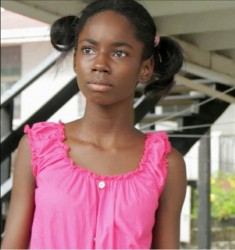 The short film stars Daisha Henry in the lead role with supporting characterisations from Margaret Kertzious and Haresh Bhagwan. Brian Ringa, Judith Cameron, Teriq Mohammed, Kaesia Munroe and Gordon Roberts were cast in minute roles.
Rebecca's Story is set in Georgetown. A young couple (Teriq Mohammed and Judith Cameron) drop off their daughter Rebecca (Daisha Henry) and her little brother Aaron (Brian Ringa) to stay with their grandmother (Margaret Kertzious) before travelling on business. With parting hugs and words of love, Rebecca retrieves her favourite book, not realising that it would be the last time she would see her parents alive.
Weeks later, their days are marred by their distressed grandmother's harsh words and rough hands. Rebecca yearns for an escape, and finds hope in the intervention of Lindsey (Haresh Bhagwan) a young witness to Rebecca's plight who offers respite through an after-school programme.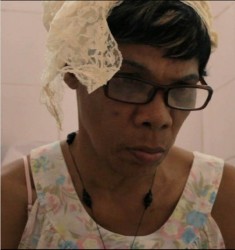 Plagued by her own demons, her grandmother dismisses his help. Undaunted, Rebecca soon discovers that her granny's violent harshness and sharp tongue hide a troubling disability and desolate past. In a small but powerful gesture, Rebecca reaches out with an offer of her own, opening the door to better days for her new family.
Although the story was great, the portrayal lacked the influence to draw the audience's attention. The only real acting came from Kertzious. In many ways she portrayed a typical Guyanese parent with her use of language and disciplinary actions, her tones and body language. Henry portrayed great potential as she captured the attention the role needed. Though she failed to deliver absolutely, it was a great start for her if she wishes to pursue drama.
Bhagwan was brilliant in his few lines, scorning by the ill-treatment he saw meted out to Rebecca.
The directing team could have done a lot better in making sure the story was less complex given that it is less than 13 minutes long. The narration of the story by Rebecca was used to alleviate the complexity yes, but the flashbacks did more harm than good.
Flashbacks were shown at least twice and it was uncertain whose they were they. These black and white miniatures lasted a few seconds and showed abandonment or abuse of a young girl by a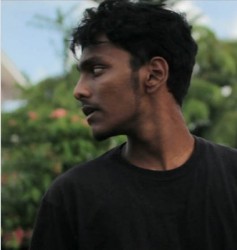 man. They were shown during arguments or confrontations between granny and Rebecca.
The keen eye would have picked up that the young girl in the flashbacks was wearing the pendant of a jaguar around her neck, hinting that it was granny. For the not so keen eyes this could have easily been missed.
It was also off-putting to have granny say, "It is late, goodnight" in broad daylight. Granny certainly wanted to end the conversation with her nosey neighbour Lindsey as quickly as possible but another line would have worked just as fine. Or she could have slammed the door.
However, there was beautiful symbolism in the reference of granny as a jaguar. This was also evident in the jaguar pendant around the grandmother's neck. The jaguar can be strong, cunning and vengeful but can also be weak with lack of resources cut from around her or abuse causing her great pain.
Perhaps, because of this beautiful allegory, the film should have centred more on the grandmother who was the one actually hurt and learning. Rebecca was only a supporting actor by the end; it was granny who was in the spotlight.
While cognisant that the film was shot by children there were too many unnecessary blurs and misdirected focus.
Why was the book The Easter Kite important enough to be focused on by the camera? Was there a hidden message?
Rebecca's Story was an incredibly appealing story though the film was affected with gaps and confusion. All of this of course can be forgiven because it is the first work of a group of youngsters with great talent and potential to do better if they choose to work in the industry professionally.
Around the Web