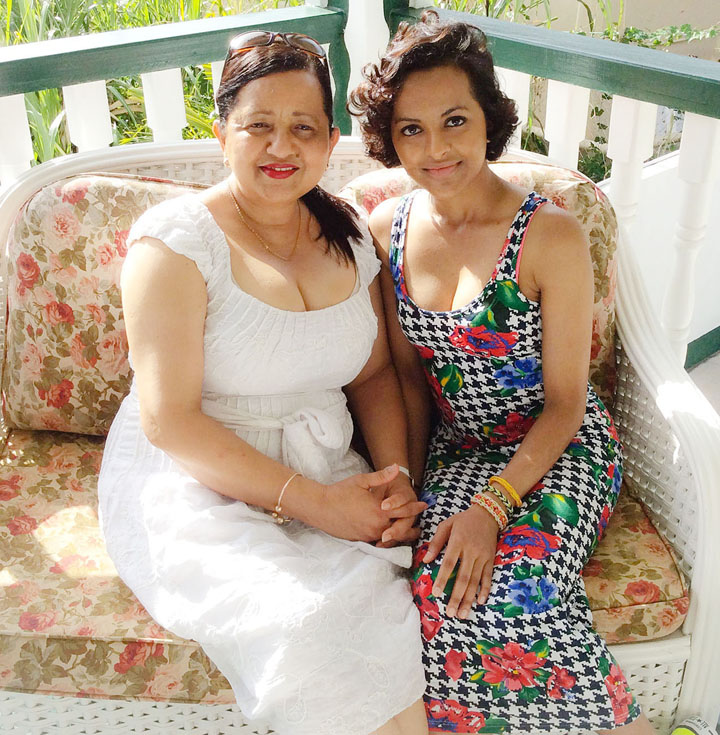 The annual Mother and Daughter pageant has become quite traditional in the Guyanese celebration of a day to honour mothers. It is a household name and anticipated event, unique in nature as it is perhaps the only pageant of its kind in the Caribbean.
Twenty-four years ago, mother and daughter, Roxanne and Maritza Lord competed and won the Junior Category of the first Mother and Daughter Pageant, which was staged at the Cliff Anderson Sports Hall on the eve of Mother's Day in 1990.
Roxanne was first approached by Ingrid Fung, her friend from growing up in Essequibo who was executive director and producer of the pageant. Roxanne hesitated; it was not a matter of her not wanting to be a part of the pageant but it was her terrible stage fright. Maritza, on the other hand, was always happy to be on stage.
Maritza had been modelling and singing since the age of four and often performed at tea parties and the like. As a way of motivating her daughter to take on bigger stages, Roxanne swallowed her fear and signed on.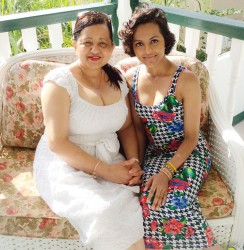 Before she knew it her cold feet warmed up, the joy Maritza had on stage lightened her mother's heart. Roxanne was soon encouraged by her daughter's ease and confidence. While Roxanne was a nervous wreck, Maritza's comfort on stage helped her.
Following their win, Maritza performed for the pageant every year until she and her family migrated to the US in 2001.
Now, 13 years later and 23 seasons since they first stepped foot on the Mother and Daughter stage, Roxanne and Maritza are back for a special appearance, compliments of Caribbean Airlines Limited.
In an exclusive interview with The Scene Roxanne expressed that she and Maritza are excited to be back in Guyana. Roxanne had visited twice since migrating but her daughter has not been back owing to her preoccupation with her education. Roxanne highlighted that it was wonderful to be back after so many years, especially on the pageant stage. She believes that this is a wonderful opportunity they were given to return and her excitement comes not only because she is home, but she gets to see her daughter sing on the stage of the National Cultural Centre (NCC) after so many years. All the memories of the first pageant and all the performances that came after that will engulf her mind as she watches her daughter.
As for Maritza she considers the experience to be a homecoming; one she sees as a symbolic circle of her life. She noted that the Mother and Daughter Pageant was her first grand stage. For her being back is sentimental. She noted that it was like her second home and as a little girl she would run on the stage and play behind the curtains, explore the dressing rooms and the halls.
As for performing, she is over the moon. To be performing in this year's pageant would be not only memorable for her, but a blast from the past, and the revival of a great tradition – even if it is just for one night.
Her mother explained that it was so beautiful to hear her sing, everyone enjoyed her performances and it became tradition for the pageant. They felt so close to the Mother and Daughter Pageant, being a part of the production and part of the family.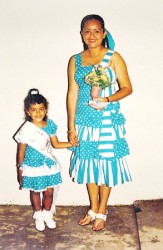 Roxanne reminisced on the pageant, stating that it was just about having a good time. Although they knew pageantry was a competition the atmosphere hardly felt that way because the bonds between a mother and her daughter were the foremost important reason to be involved in the pageant. "It was just about having bonding," she said. "We didn't enter in to it feeling as if it was a competition. We got to meet new people, got to know folks better and most of all we saw the showcase of that relationship and love."
Maritza's advice to this year's contestants is: "You have to be yourself and shine unrestricted. I'm sure this may sound a bit clichéd but it is important to be yourself. Come with your own flavour and bring your best but be yourself because that is what an audience connects with – you."
Her mother expressed that for the daughters, no matter what age they are, they seem to be the ones enjoying it more than the nervous mothers. But as a mother, seeing one's daughter in such joy is strengthening and motivational. "It really is a wonderful experience," she said.
Roxanne and Maritza's excitement was palpable. They are definitely thrilled to be back and honoured to participate in this year's pageant. "We are excited to see the National Cultural Centre…," Maritza enthused. "It was so exciting to be there anytime and now I am so excited to be back!"
She will be performing a song written by Quincy Jones and Rod Temperton and Maritza encourages everyone to support the pageant.
The Mother and Daughter Pageant, produced by Sulan Fung with the assistance of her mother Ingrid, will be hosted this evening at the National Cultural Centre. Tickets are available at the Box Office and cost $1,500 for Balcony, $2,000 for Auditorium-Rear and $2,500 for Auditorium-Front. The pageant begins at 20:00 hrs.
Around the Web